Mayors boycott Trump summit as DOJ threatens 'sanctuary cities'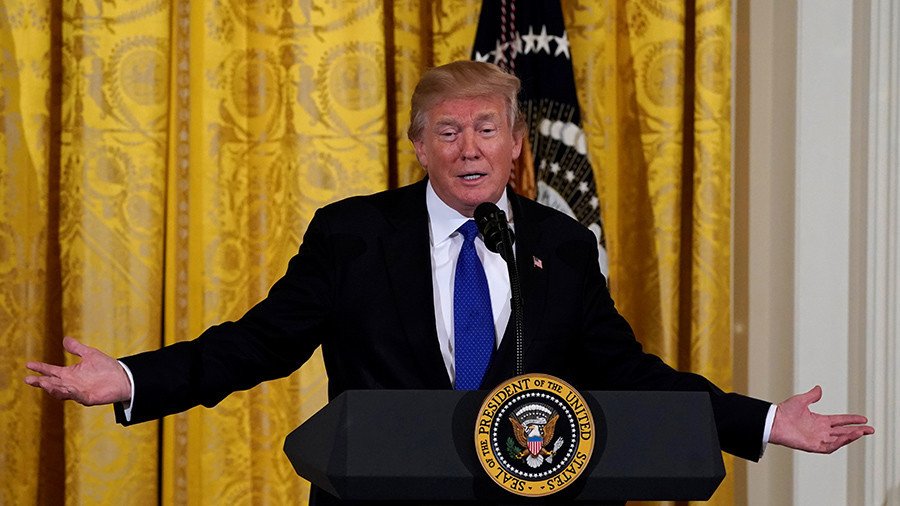 Mayors of some of the largest US cities skipped a White House event after the Justice Department threatened to subpoena nearly two dozen "sanctuary cities" to show they are complying with federal immigration laws.
As part of the US Conference of Mayors' annual winter meeting, President Donald Trump invited a bipartisan group of roughly 100 mayors for a meeting at the White House on Wednesday to talk about infrastructure, drug addiction and other issues.
Before the meeting, the Justice Department sent letters to 23 so-called "sanctuary cities" and the state of California, asking for records that show they are in compliance with federal immigration law, specifically 8 USC 1373, which instructs local officials to share information with federal immigration authorities.
The cities were told to submit the documents by February 23 or be subpoenaed and have the Justice Department withhold millions of dollars in grants for their police departments.
If the Justice Department determines that any jurisdictions are out of compliance, they will also ask the cities to return grant funds they received last year and could deem the city ineligible for the funds next year.
"Protecting criminal aliens from federal immigration authorities defies common sense and undermines the rule of law," Attorney General Jeff Sessions said in a statement obtained by Reuters.
The move upset several members of the US Conference of Mayors, the vast majority of which were Democrats. Several of them took to Twitter to announced they would boycott the meeting at the White House.
New York City Mayor Bill de Blasio (D) said he rejected the invitation after the DOJ "decided to renew their racist assault on our immigrant communities."
"It doesn't make us safer and it violates America's core values," de Blasio said.
Los Angeles Mayor Eric Garcetti (D) wrote a short response to the DOJ letter, saying, "threaten me all you want. I will always stand up for every single Angeleno."
Denver Mayor Michael Hancock (D) also rejected the offer, saying that he had "better things to do than be part of a photo op for 45 as he threatens cities again."
Seattle Mayor Jenny Durkan (D) said that she never intended on attending Trump's "photo op," adding that "nothing good is coming out of DC."
Chicago Mayor Rahm Emanuel (D) also rejected the invitation, saying that "The Trump Justice Department can try to intimidate us with legal threats, but we will never abandon our values as a welcoming city or the rights of Chicago residents."
Philadelphia Mayor Jim Kenney (D) said that he had "no interest in going to the White House when the resident welcomes white supremacists and vilifies immigrants."
New Orleans Mayor Mitch Landrieu (D), the head of the US Conference of Mayors, said he backed out of the meeting because of the DOJ's decision to "threaten mayors and demonize immigrants yet again – and use cities as political props in the process – has made this meeting untenable."
"When the President is prepared to engage in an honest conversation about the future of our shared constituencies, we will be honored to join him," Landrieu said in a statement. "Until that time, mayors of both parties will work together to keep our cities safe, hold this administration accountable to its promises, and protect immigrant communities – with or without Washington's help."
Many of the mayors who did not go to the White House met at the Capitol Hilton Hotel in Washington DC for the 18th annual US Conference of Mayors (USCM) to discuss "how cities are leading the way while Washington is paralyzed."
At the event, Garcetti said that the White House was engaging in "politics of distraction and destruction."
"There is not a single mayor in this country who says please, if you're a criminal, come on over. And if you're undocumented, bonus points. This is a myth, and it's pure politics," Garcetti said, according to KABC.
At the same conference, Emanuel said that the Trump administration's crackdown on illegal immigrants will make communities less safe.
"If you drive a wedge between any immigrant community and the law enforcement; It is contrary to public safety. It's contrary to the values of our nation, and it's contrary to the ideals and the law that we establish," Emanuel said, according to ABC News.
Trump spokeswoman Lindsay Walters said the White House was "disappointed that a number of mayors have chosen to make a political stunt instead of participating in an important discussion with the president and his administration."
"President Trump is committed to tackling the challenges facing this country and looks forward to visiting with a large bipartisan group of mayors that represent both rural and urban municipalities," Walters said, according to PBS.
However, Trump denounced Democratic mayors while praising himself for lowering the unemployment among African-Americans.
"For 100 years, the Democratic mayors have done a terrible — I mean, they've done some bad work," Trump said, according to a White House transcript. "African American unemployment is at its lowest rate ever recorded. That's not bad."
Trump added that "sanctuary cities" are "the best friend of gangs and cartels, like MS-13."
Some of the cities that boycotted the event have sued the Trump administration after the Justice Department threatened to withhold millions in federal public safety grants last year. The cities have won in lower courts, but the case is still ongoing.
You can share this story on social media: