'I just signed your death warrant': US Olympic doctor Nassar sentenced to 175yrs in prison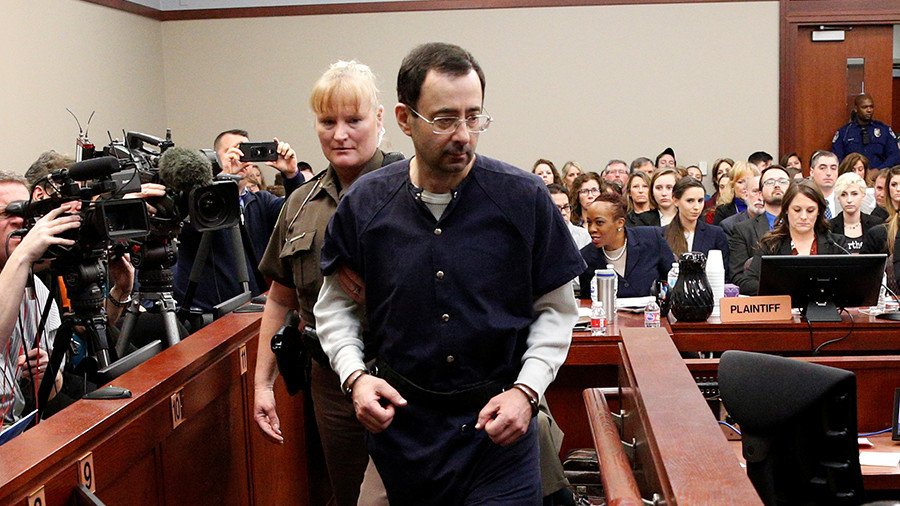 Disgraced former US gymnastics doctor Larry Nassar has been sentenced to 175 years in prison for the sexual abuse of some 98 Olympic athletes, the majority of whom were children at the time of his crimes.
Nassar was the doctor for the US gymnastics team for 20 years. He faced lawsuits from 140 women accusing him of sexual abuse during this time. US Olympic gold medalist McKayla Maroney was among Nassar's victims and had called for the maximum sentence possible.
"I just signed your death warrant," Ingham County Circuit Court Judge Rosemarie Aquilina told Nassar in imposing the penalty, after condemning his years of abuse.
"Sir you knew you had a problem, that is clear to me. You knew you had a problem from a very young age, even before you were a doctor. You knew you could have taken yourself away from temptation," Aquilina said during the sentencing on Wednesday.
"Your decision to assault was precise, calculated... and despicable," the judge added. "You do not deserve to walk outside of a prison ever again… Everywhere you walk, destruction will occur to those most vulnerable."
Nassar was sentenced to a minimum of 40 years in prison, and up to 175. He has 21 days to appeal the verdict.
The court heard testimony from more than 160 of his victims, including non-athletes who were also abused by the disgraced doctor.
Last week, a victim impact statement by Kyle Stephens, who was abused by Nassar between the ages of 6 and 12, described how the doctor abused her under the guise of medical treatment. Stephens said that the abuse led her father to commit suicide.
"Little girls don't stay little forever," she told the Michigan court. "They grow into strong women that return to destroy your world. Sexual abuse is so much more than a disturbing physical act. It changes the trajectory of a victim's life, and that is something that nobody has a right to do."
'Little girls grow into strong women that return to destroy your world': Victims emotionally confront pedophile doctor Larry Nassar https://t.co/QlyUPeDoJk

— RT Sport (@RTSportNews) January 17, 2018
Nassar, 54, pleaded guilty in November to seven counts of first-degree sex assault. He is already serving a 60-year sentence for child pornography convictions.
The former team doctor apologized to his victims, saying, "I will carry your words with me for the rest of my days."
However, the judge dismissed his remarks as insincere and read out a letter in which he claimed he was compelled and "manipulated" into pleading guilty. The courtroom audibly gasped as she read his letter aloud. She offered Nasser to change his plea, which he declined.
You can share this story on social media: