Nassar victim Raisman blasts US Olympic Committee for mishandling sexual abuse scandal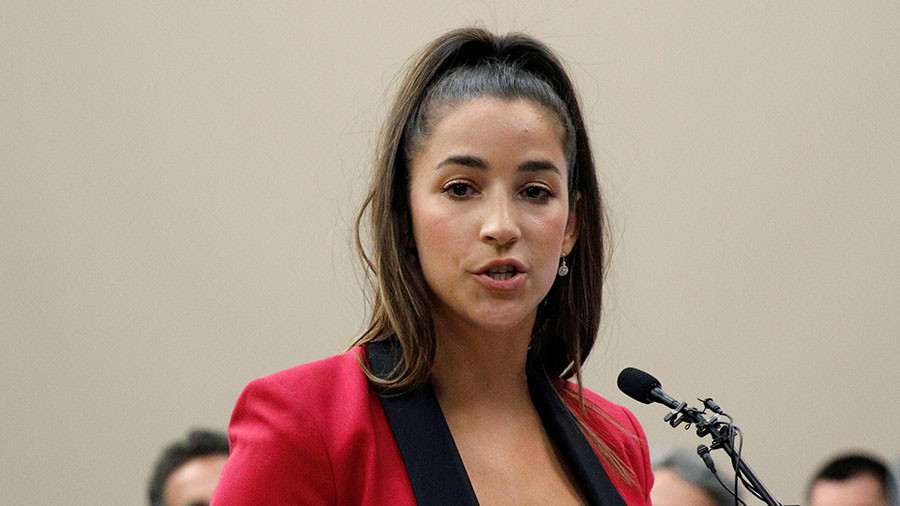 US gymnast Aly Raisman, one of the alleged sexual abuse victims of team doctor Larry Nassar, slammed the US Olympic Committee (USOC) for not acknowledging their role in the scandal.
Raisman, who represented the US squad in two Olympic tournaments – in 2012 and 2016 – in which she earned three gold medals, has posted a lengthy statement on Twitter, condemning the USOC for not addressing the issue, which affected hundreds of gymnasts treated by Nassar.
"For the past week, survivors came forward to courageously face a perpetrator of evil and to share their painful stories," Raisman wrote, regarding the victims' statements at Nassar's sentencing hearing, in which the gymnasts detailed the abuse they suffered at the hands of the former team doctor – a position he held for more than 20 years.
"Many of them, myself included, claim the USOC is also at fault. Was the USOC there to 'focus on supporting the brave survivors'? No. Did they issue any statement then? Crickets," she said.
Raisman also criticized USOC members for "shamelessly taking credit for a few USA Gymnastics resignations," which were announced earlier this week.

"Over the weekend, the USOC released a statement shamelessly taking credit for a few USA Gymnastics resignations (note: not fired), as though they are addressing this problem. But they are still not acknowledging its own role in this mess. Zero accountability! It's like none of us were ever abused."
USA Gymnastics Chairman Paul Parilla, Vice Chairman Jay Binder, and Treasurer Bitsy Kelley stepped down on Monday in the wake of the scandal involving Nassar, who faces lawsuits from 140 women accusing him of sexual abuse.
Victim testimony in Nassar's sentencing hearing in Michigan has stretched into the second week, with more details of the former doctor's behavior surfacing.
Jordyn Wieber, a member of the 2012 squad, testified in court last Friday, in her first public acknowledgement that she was abused by Nassar.
"I thought that training for the Olympics would be the hardest thing that I would ever have to do," she said. "But, in fact, the hardest thing I ever had to do is process that I am a victim of Larry Nassar."
Wieber became the fourth member of the 'Fierce Five' to accuse the former team physician of sexual abuse. Earlier, her teammates – Mackayla Maroney, Aly Raisman, and Gabby Douglas – who competed at the 2012 Games in London, revealed they were systematically abused by Nassar.
Fifteen-year-old Emma Ann Miller, who delivered an emotional speech during the sentencing hearing on Monday, said that her mother is still getting billed for the appointments where she was sexually assaulted.
The most decorated US gymnast, Simone Biles, also claimed to have been sexually abused by Nassar.
In December, Nassar was sentenced to 60 years in federal prison for possessing child pornography. He also faces a minimum prison sentence of 25 to 40 years in a separate case after pleading guilty to molesting underage children.
You can share this story on social media: