Disgraced former US gymnastics doctor Nassar gets 60yr sentence for child porn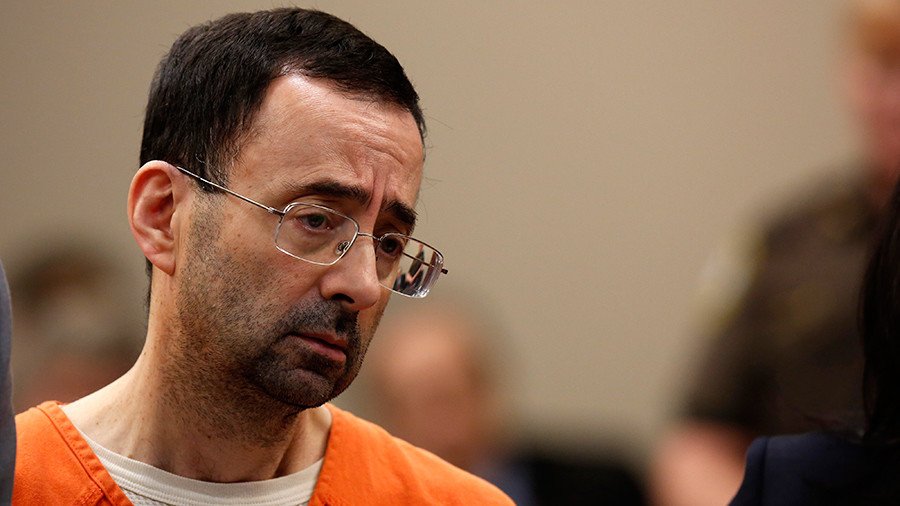 Former US Gymnastics and Michigan State doctor Larry Nassar has been sentenced to the maximum 60 years in federal prison for possessing thousands of images and videos of child pornography.
Nassar, who worked for nearly 30 years as the US gymnastics team doctor, pleaded guilty to three federal child pornography charges in July 2017 and received the maximum sentence in court on Thursday.
READ MORE: Team USA doctor pleads guilty to molesting gymnasts, faces 25 years in prison
This was the first of three punishments for Nassar, who will be sentenced in a separate sexual abuse case on January 18 after admitting to molesting female gymnasts when they sought treatment for hip and back pain.
More than 100 women filed lawsuits against Nassar accusing him of sexual abuse, with Michigan State and USA Gymnastics being co-defendants in many cases.
US District Judge Janet Neff fulfilled the government's recommendation in the child pornography case by stating that Nassar "should never again have access to children."
She also outlined that the 60-year federal sentence won't come into effect until he completes his jail time for sexual assault, for which he faces at least 25 years, meaning that the 54-year-old will spend the rest of his life in prison.
2012 Olympic champion McKayla Maroney revealed in September she suffered a systematic sexual abuse at the hands of the former team doctor that began when she was 13 and continued for seven years, until she retired last year.
The gymnast's mother, Erin Maroney, wrote a testimonial letter to the court, in which she detailed what her child had to go through as the result of the doctor's illicit manipulation.
"This experience has shattered McKayla. She has transformed from a bubbly, positive, loving, world class athlete into a young adult who was deeply depressed, at times suicidal. At times, I was unsure whether I would open her bedroom door and find her dead," Maroney wrote.
"Our daughter was totally failed by USA Gymnastics, by Michigan State University and by the U.S. Olympic Committee. No one from the USOC has ever reached out to me or my husband or my daughter to inquire about her well being. Not once. No one has apologized," she added.
READ MORE: 'We were conditioned to stay silent' – US Olympic champion Gabby Douglas on alleged sexual abuse
McKayla Maroney, who won two medals at the London 2012 Olympics, also wrote a powerful victim-impact letter to the court judge, requesting a maximum sentence for her long-time abuser, who she says "left scars" on her mentally.
"[Nassar] abused my trust, abused my body and left scars on my psyche that may never heal," she said. "Larry Nassar deserves to spend the rest of his life in prison."
READ MORE: US Olympic champion gymnast Aly Raisman reveals sexual abuse by team doctor
Last month, two more members of the 2012 US Olympic gold medal-winning squad, Aly Raisman and Gabby Douglas, said they had also been abused by Nassar, however without specifying the nature of their ordeals.
You can share this story on social media: