'Shocked, disgusted': Police officer slams teen girl, sparking protest (VIDEO)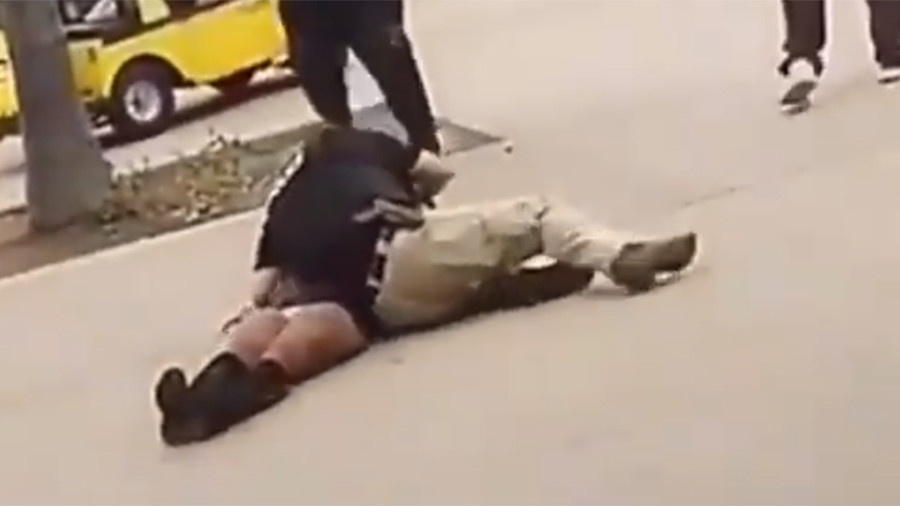 A La Mesa, California school police officer is under investigation after a viral video showed him swinging a 17-year-old student over his shoulder to the ground after she reportedly refused to comply with orders.
The 30-second Snapchat video posted on YouTube and Instagram shows part of the altercation where the La Mesa school police officer slams the teenage girl to the ground. The video quickly went viral and angered students, parents and community members.
The teen was charged with refusing to obey a lawful order and resisting arrest.
In a Facebook Live video uploaded Monday, hundreds of students are seen walking out of class after the first bell, criticizing police for unlawful use of force on the teen. Chants of "Justice for Bri" are heard.
"I was kinda shocked. I didn't know who it was at first. I was confused and I was disgusted that it happened on my campus," student Leah Blake told KNSD-TV.
"We demand that the officer be removed from his position as school resources officer," said Blake, adding that policies should be put in place to make sure this does not happen again.
Blake described the student involved in the incident as a classmate who has been a kind and sweet girl in the four years she's known her.
Blake, who was not at school at the time of the incident, saw the video on Snapchat.
La Mesa police department LT. Chad Bell said the police department is in possession of the video.
The incident took place Friday, January 19 when the teen was arrested for refusing to obey an order to leave schools grounds, and resisting arrest, according to police.
Police said staff at Helix High School had requested assistance from school police when the student, who was on suspended status, didn't comply with staff to leave campus.
After she refused to follow police orders to leave campus, she was arrested and place in handcuffs.
"As they were walking, the student became non-compliant on two separate occasions and made an attempt to free herself by pulling away from the officer," said La Mesa Police Department in a statement. "To prevent the student from escaping, the officer forced the student to the ground. After the student agreed to quit resisting and attempting to escape, the officer assisted her up and walked her to his patrol vehicle."
Police said the student "suffered minor abrasions." Paramedics said she did not required treatment. The officer was not injured.
Police are investigating the use of the force and the overall incident. The school would not respond to questions but the teen's parents are due to meet with school administrators.
You can share this story on social media: