Father's kidney plea at Disney World goes viral, leads to donor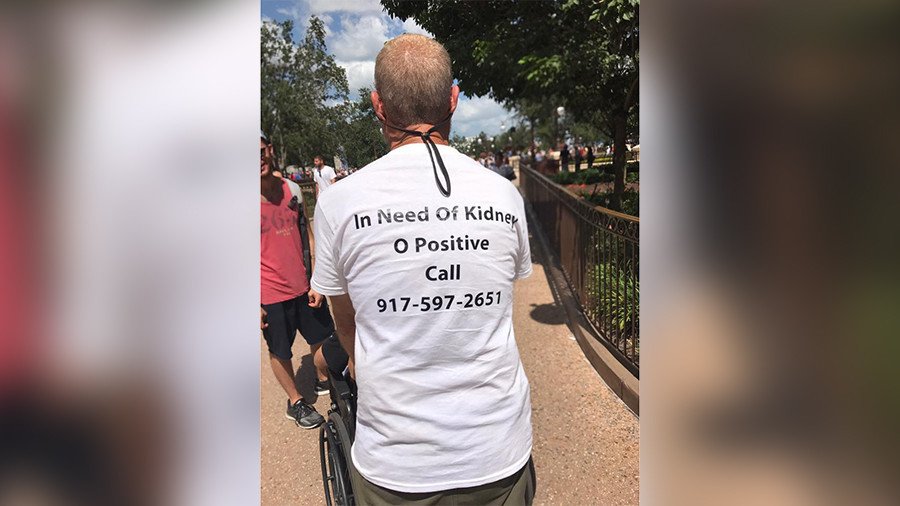 A desperate father of five, frustrated over a seven year waiting list for a kidney donation, wore an "In Need of Kidney" T-shirt to Disney World over the summer. A Facebook post of the shirt went viral and a donor responded.
"I thought 'You know, if I can get one person who's my blood type to just respond and maybe that's my match… You know it's worth the $35 investment for the shirt," Robert Leibowitz, 60, of New Jersey told WCBS News.

"This amazing couple, Rocio and Juan Sandoval, took a picture of it and said do you mind if I post it? Within the first week, 90,000 Facebook shares. Three days walking around the park… My phone wouldn't stop ringing."
The kidney donation came from Richie Sully, 39, a father of two from Fort Wayne, Indiana.
"I have an extra kidney, it's not like I need them both," Sully told WCBS.
After a series of tests and months filled with anxiety, Leibowitz received word that Sully's kidney was a match. He and Sully were reportedly doing well after the surgery last Thursday at new York-Presbyterian Cornell Medical Center in Manhattan.
"There are no words, no matter how much I say how much I appreciate," Leibowitz told WNBC before the surgery.
Leibowitz suffered from chronic kidney disease and was undergoing dialysis treatment three days a week. He had been in a need of a kidney for three years.
Leibowitz told WNBC he plans to take his donor and the Sandovals to Disney World to celebrate his "dream come true."
There are more than 101,000 Americans waiting for a life-saving kidney transplant, but only 17,000 receive one each year, according to the National Kidney Foundation.
You can share this story on social media: