​Ban on gay men donating blood 'may be justified' in certain cases – European Court of Justice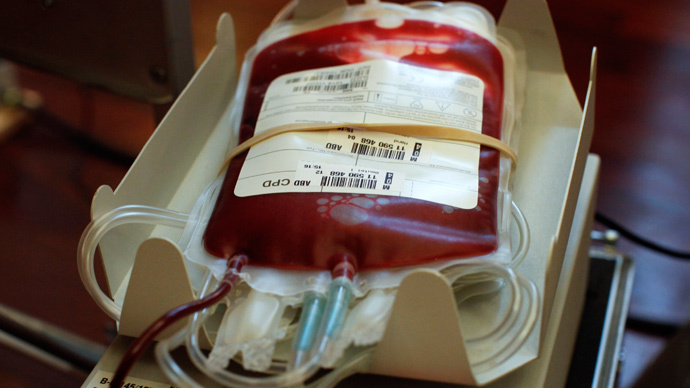 The European Court of Justice has ruled that EU governments may ban gay men from donating blood under strict circumstances – that is, if there are no alternative ways to protect blood recipients from potential infectious diseases.
The case concerned France's policy of banning gay men from giving blood if they have ever had sex with another man.
The law was challenged in 2009 by Geoffrey Léger, a French man who was told he could not give blood because he had previously had sex with another male.
"Mr Léger brought this case because, in a gesture of generosity, he had gone to give blood to save lives and had been told he couldn't because he was gay. He found that very difficult, to be banned because he was gay. If they had said it was because of multiple partners or being at risk...but they didn't even ask about those details. So it was discriminatory and he contested it," Léger's attorney, Caroline Mécary, told the Guardian before the ruling.
READ MORE: French national ethics body rules to keep indefinite ban on gay blood donation
After reviewing Léger's case, the European Court of Justice ruled that EU governments may be justified in banning gay men if the donor is at risk of an infectious disease and there are no other ways to protect recipients.
The court also found that France's law was "liable to discriminate against male homosexuals on the basis of sexual orientation," which is against EU policy. It returned the case to the original French court that handled Léger's case, for further study.
The court did note, however, that almost all HIV infections between 2003 and 2008 were due to sexual relations, and half of those newly infected were men who had had sexual relations with other men.
During the same time period, homosexual men were the population most affected by HIV, with a rate of infection 200 times greater than that for the heterosexual population in France.
It also mentioned that the rate of HIV among men who have had sex with other men is higher in France than anywhere else in Europe or Central Asia.
READ MORE: FDA ready to relax ban on gay blood donors
After the ruling, Mécary told the website Yaggthat she would have preferred a more "clear-cut" judgment, but noted that the European Court of Justice is known for being pragmatic.
French Health Minister Marisol Touraine spoke out against the country's policy last month, stressing that sexual orientation should not be seen as an exclusion criterion for those wishing to donate blood. She reiterated her views on Wednesday.
"Discrimination of donors based on their sexual orientation is unacceptable and only the security of recipient can justify limitations on blood donation," Touraine said after the ruling.
Ahead of the judgment, France was already moving toward relaxing the ban, reiterating plans to change the questionnaire given to potential blood donors.
The proposed new questionnaire would aim to flag anyone – not just gay men – who has had risky sexual activity in the past year. Lifetime bans would no longer exist for any orientation.
READ MORE: Insurers discriminating against HIV/AIDS patients via drug costs – study
Touraine said she expects to meet with experts in early May to discuss the proposed questionnaire.
However, France's National Consultative Ethics Committee (CCNE) said earlier this month that further research was needed before lifting the country's ban, which came into force in 1983.
The ruling comes just four months after the US Food and Drug Administration (FDA) recommended allowing gay and bisexual men to donate blood one year after their last sexual contact.
Policies on gay blood donors vary across the globe. In some countries, including Spain, Portugal, and Russia, there are no limits on gay or bisexual individuals when it comes to blood or organ donation. However, donors in Finland, Brazil, Australia, and the UK must undergo a one-year abstention from homosexual relations. In Canada, the limit is five years.