Business as usual? 'Americans can expect govt shutdown every 6 months'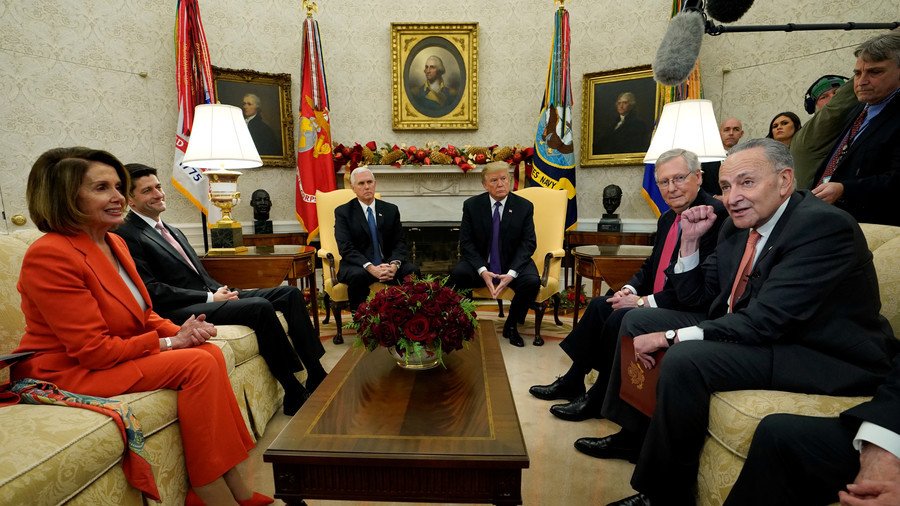 Government shutdowns have become part and parcel of US politics, with the Donald Trump situation showing what Americans can expect to happen every six months, Patrick Henningsen, Executive Editor of 21st Century Wire.com, told RT.
US President Donald Trump's first anniversary in the White House is being marked by a new government shutdown, after the Senate refused to approve a bill to fund the government. Meanwhile, a number of US Republican Congressmen are demanding the release of a top secret intelligence document. They believe it will expose political bias against Trump in the ongoing Russia probe.
The precise content of the secret document is still unknown. The memo also might lead to the dismissal of some senior members of the government and criminal investigations. Reportedly, the document overviews serious violations of the government surveillance program carried by the Foreign Intelligence Surveillance Act (FISA). The spread of the hashtag #ReleaseTheMemo has unsurprisingly been blamed on hundreds of "Kremlin-linked" Twitter accounts.
RT: First, the government-wide shutdown, who will be the biggest loser out of this?
Patrick Henningsen: I think the President shows that Americans can expect threats of a government shutdown pretty much every six months. So the subject comes up really about twice a year – I think it hit a sort of peak under the Obama administration in 2013. It did split the Republican House at the time along sort of ideological lines as well, Tea Party insurgents and so forth. Now it has just become part and parcel of American politics. The US is bankrupt as a country on paper; they should be in receivership right now, into administration. It is business as usual running multi-trillion dollar deficits in the US now.
RT: Isn't it rather symbolic that this is happening exactly one year after Trump assumed the office?
PH: Yes and no. I think this is very lightweight. Before, having Republicans in opposition in the House and having a Democratic President like [Barack] Obama, there was a lot more tension with regard to the government shutdown issue. But as divisive as Trump is, having a Republican President in the executive and having the Republican House and Senate, it is not as bad of an issue. I think the media is looking for a lot of divisive issues in order to make stories out of, when they really should be investigating and sort of looking at themselves and the coverage that they've dedicated to, let's say, "Russian collusion" over the last 18 months, which by all accounts now we can see as kind of an official conspiracy theory that has been promulgated mainly by the Democratic Party and also by the Never Trump Republicans.
#UPDATE: As voting continued, the 50-48 tally went predictably along partisan lines mostly, with at least one Democrat and four Republicans breaking from their parties. https://t.co/6vf3HRgfm3

— RT America (@RT_America) January 20, 2018
RT: Let's discuss the Republican memo. What do you make of the allegations that Russia linked accounts are trying to trend the hashtag #ReleaseTheMemo?
PH: This is ridiculous on so many levels. Basically, behind this allegation is – I don't know what to call it – "Hamilton 68." This is some kind of initiative by a guy named Clint Watts and some of his associates. They sort of come from a Cold War neoconservative think tank/foreign policy research institute, which is a neocon Cold War dinosaur. They are also I think linked to "PropOrNot," a sort of black list of websites. Basically what they are saying is laughable – a somewhat queer notion posited by Watts in the mainstream media, that any persons who deny "Russian collusion" or who support Trump on this issue, or who are sympathetic to any of Russia's foreign policy statements or moves is somehow part of an organized network of Russian influence. I think the specific term they used was "Russian-influenced linked accounts." This is beyond spurious.
Basically, according to this logic, they are calling this active measures by the Kremlin. If you share or retweet anything along these lines – that's sort of skeptical of this kind of official "Russiagate" conspiracy theory, or it is questioning the Obama administration's role in what has already been proven through Susan Rice's unmasking involvement – there was surveillance; orders have been made; there were partisan forces in the FBI. That is proven beyond the reasonable doubt. So what this is, it's a kind of democratic deep state joint venture to try to divert people's attention away and kind of engineer this sort of social desirability phenomenon on where you just don't want to be supporting Trump, or you don't want to be siding with Russia, otherwise it is socially undesirable in America.

Think your friends would be interested? Share this story!
You can share this story on social media: