US government shuts down after Senate fails to pass funding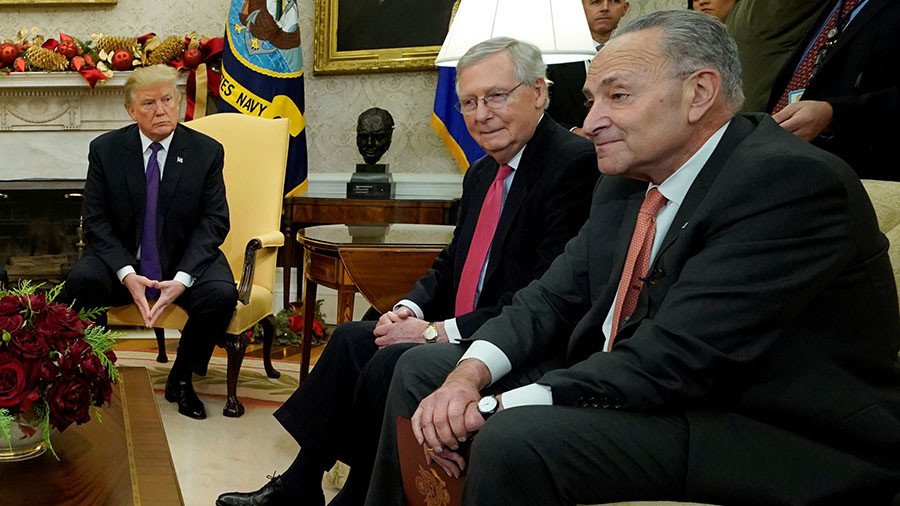 Despite 11th-hour meetings between President Donald Trump and leaders of both parties in Congress, efforts to avert a government shutdown have failed. A sticking point was the status of over 700,000 illegal immigrants.
At midnight, as Friday turned to Saturday, the federal government closed its doors. Lawmakers, however, continued discussions on the Senate floor. The House remains in recess, awaiting a call from the chair. The likelihood of a deal to be reached remains to be seen.
"Senate Democrats own the Schumer Shutdown," the White House said in a statement shortly before midnight. "Tonight, they put politics above our national security, military families, vulnerable children, and our country's ability to serve all Americans. We will not negotiate the status of unlawful immigrants while Democrats hold our lawful citizens hostage over their reckless demands. This is the behavior of obstructionist losers, not legislators. When Democrats start paying our armed forces and first responders we will reopen negotiations on immigration reform. During this politically manufactured Schumer Shutdown, the President and his Administration will fight for and protect the American people."
When there was just 1 hour and 45 minutes of federal funding remaining late Friday night, the Senate fell short of the necessary 60 votes to limit debate on the continuing resolution (CR) that would temporarily provide the government spending power until February 16.
As Senate Majority Leader Mitch McConnell (R-Kentucky) waited to vote, the 50-48 tally went predictably along partisan lines mostly, with at least one Democrat and four Republicans breaking from their parties. The Republicans were Senators Jeff Flake of Arizona, Lindsey Graham of South Carolina, Mike Lee of Utah, and Rand Paul of Kentucky. The breakaway Democrats were Senators Joe Donnelly of Indiana, Heidi Heitkamp of North Dakota, Doug Jones of Alabama, Joe Manchin of Virginia, and Claire McCaskill of Missouri.
In a technical parliamentary move, McConnell was also expected to vote against the resolution, which would permit him to re-introduce the measure in the future if needed, because he voted on the prevailing side.
The GOP accused the Democrats of wanting the vote to fail, so a government shutdown would hurt Trump politically. The Democrats blamed Republicans for stalling the entire legislative process and not including permanent protections for the "Dreamers," those nearly 800,000 illegal immigrants who arrived in the US as children and who have been covered under the Obama-era DACA program, or Deferred Action for Childhood Arrivals.
While Republicans point to DACA's March deadline as being non-urgent, as opposed to the midnight deadline to fund the government, Democrats argue the Republicans have agreed with codifying DACA during negotiations.
Republicans had included a six-year extension of the Children's Health Insurance Program, also known as CHIP, to entice more Democrats to join them. However, the move was interpreted as cheap tokenism, as the GOP allowed the program to expire in years prior. Democrats said they wanted a more complete package, including opioid crisis funding.
Earlier Friday evening, Senator Graham released a statement voicing support for an alternative funding bill, limited to three weeks instead of four. Such a 'plan B' was not expected to garner support, as shorter term efforts were deemed a "non-starter" by the White House and were rejected by Democrats as well.
"Given the Congressional calendar and logistics of passing legislation, I believe that we will need a CR that runs past the week of the State of the Union," he said. "In consultation with the Leaders and the White House, I believe that a CR through February 8 is necessary in order to work toward our shared goals, while providing sufficient urgency in these discussions."
Schumer and Senator Lamar Alexander (R-Tennessee) appeared to be trying to work out a last-minute deal, as they left the Senate floor to head into the Senate cloakroom after speaking with senators from both parties, according to PBS NewsHour correspondent Lisa Desjardins.
Schumer then walked off the Senate floor with McConnell raising speculation that they, too, could be discussing a last-minute deal. Either that, or negotiations may have already begun on what comes next after the government has shut down.
Democrats can't shut down the booming Trump economy. Are they now so desperate they'll shut down the government instead? #SchumerShutdown

— Sarah Sanders (@PressSec) January 20, 2018
Shortly after the White House alerted the press that Trump would not be speaking the rest of the night, White House Press Secretary Sarah Sanders tweeted that Democrats were to blame for the shutdown.
In preparation for a shutdown, the Office of Management and Budget Director Mick Mulvaney sent a memo to the heads of federal agencies and departments Friday afternoon. Mulvaney advised them to be ready to furlough non-essential employees, and suggested they review their specific contingency plans in the event the federal government shuts down.
Mulvaney told reporters Friday that a closure would not affect national parks, the military or other services most desired by citizens, except for the fact, that those employees and armed service members would not be paid.
You can share this story on social media: