Firefighter makes incredible lifesaving catch as child thrown from 3rd floor balcony (PHOTOS, VIDEO)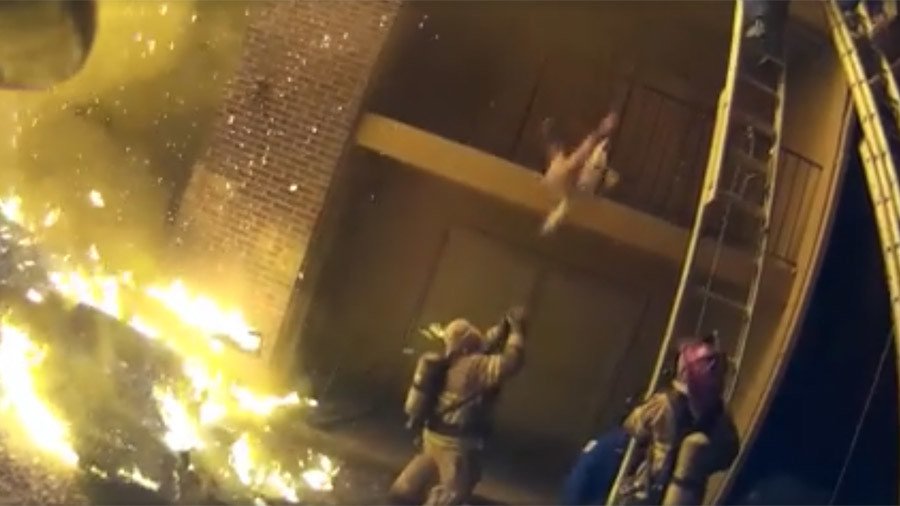 Astonishing newly released footage shows a team of Georgia firefighters displaying incredible athletic skill and bravery, catching children as they're thrown by their desperate father from a ladder two stories up.
More than 45 firefighters battled a raging inferno at a Georgia apartment complex in DeKalb County outside Atlanta on January 3, rescuing a total of 12 people in the process. A firefighters' union released footage of the heroics, which has quickly become an online sensation.
"We were catching babies like a football - literally," Fire Captain Eric Jackson said at the scene, reports CBS News. "There were adults that were on the balcony that were dropping their babies right into our arms. We had a couple firefighters catching babies, so it was just really incredible."
In the footage, third-generation firefighter Captain Scott Stroup is seen catching a child dropped by the youngster's father, Lance Ragland. Stroup wasn't the only receiver at the scene, as Captain Jackie Peckrul also caught another of the family's children.
"That was the only thing running through my mind, 'Lord, let me catch this baby," Peckrul, herself a mother of triplets, told Fox5 Atlanta.
"My hands came off the ladder and I got 'em. There's no better feeling in the world," Peckrul said. "Never want to see any parent lose a child." Assistant Chief Jeff Crump also rescued a wheelchair user from the apartment.
Four adults and eight children between the ages of one month and three years were rescued from the blaze, with many suffering from smoke inhalation. However, thanks to the heroics of the DeKalb County fire team, no one was killed.
The fire at the Avondale Forest Apartments displaced approximately 80 people in total. Investigators have yet to determine the cause of the blaze.
You can share this story on social media: