Flat-Earther rocket launch gets new lift off date after US govt delay (VIDEO)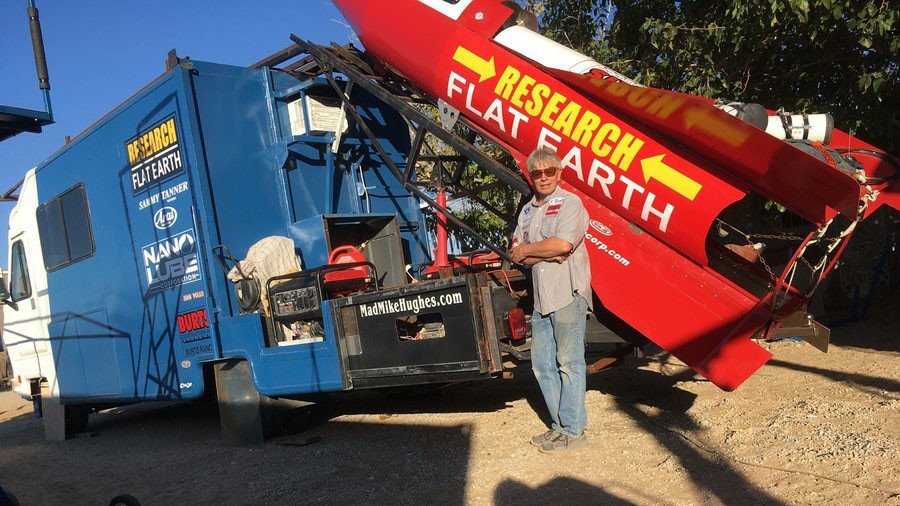 Flat-Earther 'Mad' Mike Hughes has set a new date to launch himself into orbit in a homemade rocket after his previous attempt was thwarted by a US federal agency.
The rocket jump is intended to promote Hughes' much more ambitious venture of travelling to the edge of space in a bid to prove the Earth is actually flat.
READ MORE: Flat-Earther to debunk round world 'myth' in homemade rocket
The limousine driver and self described daredevil revealed on his Facebook page that he will carry out the vertical rocket launch on February 3 from the originally intended location of Amboy, California.
A promo video has been released ahead of the launch, which will be broadcast live on Noize TV at a cost of $5 according to Hughes.
"The event right now is a vertical rocket launch which no person has done outside the government space agency," Hughes said in the video, adding that it if he pulls it off it will be a world record.
The launch was originally supposed to take place in the Route 66 ghost town of Amboy last November. It was cancelled at the last minute, however, after the Bureau of Land Management blocked permission to use the public land.
READ MORE: Launch to prove Earth is flat delayed by US govt
Hughes says a vertical launch, which will see him lifted half a mile into the air, will now take place on private land owned by the owner of Amboy, Albert Okura.
"It is absolutely the most wacky promotional proposal I have had since I purchased the entire town in 2005," Okura said previously. "He is a true daredevil and I want to be part of it."
A full length documentary is also in the works to help boost media exposure about Hughes' $1.8 million project to catapult him to the the Karman line – widely accepted as the start of space.
For Hughes this is the ultimate goal and according to him the "one true way to prove a flat Earth" really exists.
You can share this story on social media: