Flat-Earther to debunk round world 'myth' in homemade rocket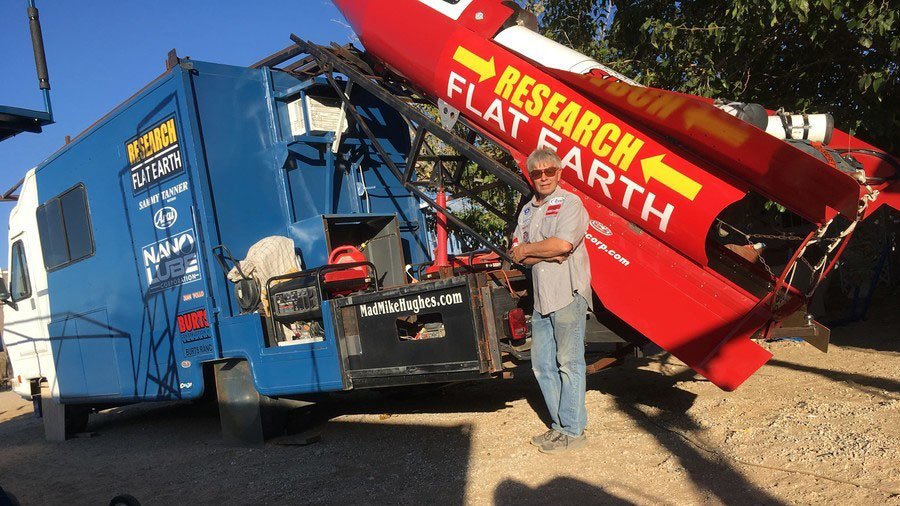 A self-styled mad scientist is preparing to launch himself into orbit in a homemade rocket in a bid to prove the Earth is flat.
'Mad' Mike Hughes, a 61-year-old limo driver, who has spent years building his own steam powered rocket, says this Saturday he will make it jump over Amboy, California – a Route 66 ghost town.
Hughes' blast off is an attempt to raise media attention ahead of a more ambitious venture – to travel to the edge of space.
On his Facebook page Hughes clarified there were further plans for a $1.8 million project to catapult him to the the Karman line – widely accepted as the start of space. He added a fuel tank and propulsion system were already in place to make this happen and it would offer "one true way to prove a flat earth."
Saturday's test is the first step towards Hughes' long-term goals and will see the self-taught rocket scientist travel at a speed of roughly 500mph (800kph) before pulling two parachutes.
"It's scary as hell, but none of us are getting out of this world alive. I like to do extraordinary things that no-one else can do, and no-one in the history of mankind has designed, built and launched himself in his own rocket," Hughes told AP.
"I'm a walking reality show."
Hughes added that he doesn't believe in science; "I know about aerodynamics and fluid dynamics and how things move through the air, about the certain size of rocket nozzles, and thrust. But that's not science, that's just a formula.
He claims: "There's no difference between science and science fiction."
The homemade rocket, made mostly of scrap parts, cost $20,000 to build and was made possible thanks to a number of sponsors including Research Flat Earth, according to Hughes' website.
Permission was granted for the launch by the owner of Amboy and will take place on an air strip next to a dilapidated hangar. The event is not open to spectators, but Hughes says he hopes to broadcast it on his YouTube channel.
READ MORE: 'Nice try, Earth is flat': Conspiracy theorists can't handle first ever 360 space video



You can share this story on social media: