Teacher handcuffed by police for criticizing pay rise at school meeting (VIDEO)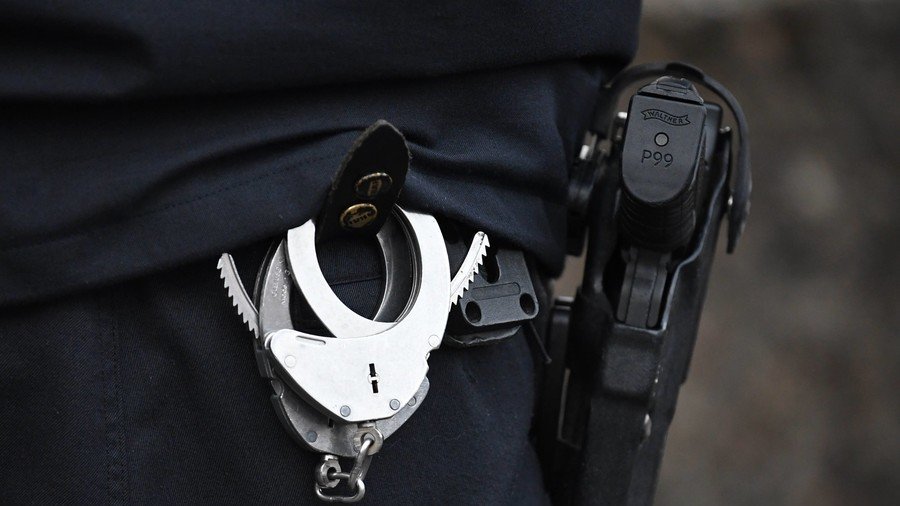 A Louisiana teacher was arrested on Monday after voicing opposition to a superintendent's wage increase at a meeting of the school board, in an incident caught on camera.
Deyshia Hargrave was handcuffed and removed from the meeting before being brought to the local police station. Hargrave, an English language teacher at the Rene A. Rost Middle School in Kaplan, Louisiana, can be heard airing her grievances at the $30,000 raise for Board President Anthony Fontana, local media reports.
"I have a serious issue with a superintendent or any person in a position of leadership getting any type of raise. I feel like it's a slap in the face for the teachers, the cafeteria workers or any other support staff we have," Hargrave can be heard saying in the video posted to YouTube.
Hargrave continues to question the raise and is then approached by a city marshal who tells her that if she refuses to leave she will be removed. Hargrave continues to address the board as she walks out of the room, others also question the raise.
All of a sudden, the teacher can be heard yelling, attendees then turn towards the door. The video shows Hargrave outside the room as the unnamed marshall forcefully puts the handcuffs on and roughly removes her from the building.
Hargrave exclaims, to which the officer responds "Stop resisting." Hargrave protests that she is not and that he has pushed her to the floor. The teacher was booked at the station and released on bond.
However, having reviewed the video, Abbeville's city attorney and prosecutor Ike Funderburk, said he will not be prosecuting Hargrave.
"I have reviewed the video and I am not going to approve any charges against the teacher. I talked with the attorney for the school board, and they do not wish to pursue any charges against the teacher," KATC quotes Funderburk as saying.
Two female board members have told AP that this is not the first time a woman has been asked to leave a meeting, adding that men who question decisions are treated differently.
"When she realized she had to get out, she picked up her purse and walked out," Laura LeBeouf said. "Women in this parish are not getting the same treatment," she added. Fellow board member Sara Duplechain echoed these sentiments, saying that there is "No reason for anyone to be treated this way. So far in 3 years, only women have been removed from board room meetings."
You can share this story on social media: