Hey, teacher - Leave them kids alone! Spate of educator arrests for sex, drugs & bullying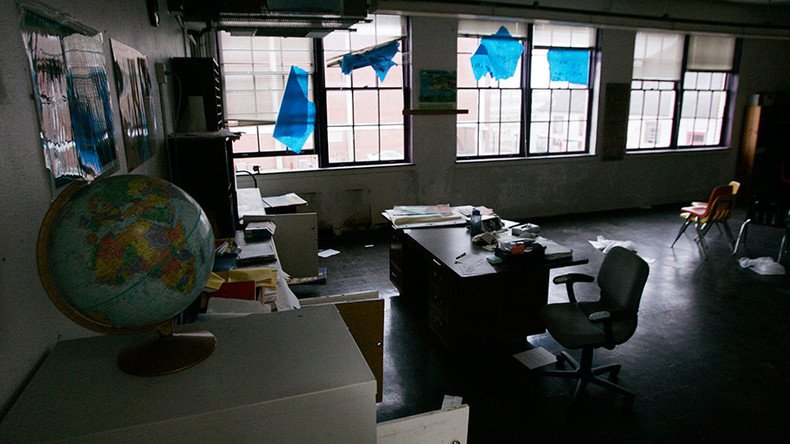 It's as if Pink Floyd wrote a song about this week, but instead of another brick in the wall, it's another teacher arrested. At least seven educators have been taken into custody ‒ and one is still on the lam ‒ for a variety of crimes involving students.
Teachers across the country have been charged with crimes including bullying, sex with minors, selling drugs, assault and more.
Two teachers at Washington Elementary School in St. Landry Parish, Louisiana were arrested after they were accused of threatening to fail students who did not fight one of their classmates. Tracy Gallow, 50, was charged with malfeasance in office, simple battery, intimidation and interference in school operation. Ann Marie Shelvin, 44, was charged with two counts encouraging or contributing to child delinquency, one count malfeasance in office and two counts intimidation and interference in the operation of schools. She reportedly told an 11-year-old child to "go and kill yourself," police said.
Another teacher wasn't arrested for bullying, but rather placed on unpaid leave. Thomas Roger Allison, Jr., 53, a star science teacher at Horizon Academy at Marion Oaks in Florida, may be fired after students said he called members of the Future Farmers of America group "murderers" for raising livestock. The school superintendent recommended Allison be terminated, writing that the teacher "has engaged in a repeated, egregious pattern of mistreating, ridiculing, insulting, intimidating, embarrassing, bullying and abusing FFA students, crushing their dreams and causing them to feel that they must discontinue FFA activities in order to enjoy a peaceful school environment."
A now-former teacher at St. Matthew's Episcopal Day School in San Mateo, California, was also arrested for a crime that didn't involve touching a child, but is nonetheless traumatic. Anthony Satriano, 33, was charged on Wednesday with 12 felony counts of using minors for sexual purposes, two counts of child molestation, attempted child molestation and possession of child pornography. He is accused of directing five female students of ages five to eight to model in suggestive poses while he took pictures.
Some teachers have touched their students ‒ and a whole lot more ‒ though. Heather Lee Robertson, 38, was charged with four counts of improper relationship between educator and student in Lufkin, Texas. Robertson, a kindergarten teacher, admitted to having sex with four high school students, including having a threesome.
Spanish teacher Hianlucas Isturiz Rodriguez, 40, hasn't been arrested yet. But there is a warrant out for his arrest in Lexington, South Carolina to charge him with two counts of first-degree criminal sexual conduct with a minor. He is accused of having sexual contact with the student multiple times "during the current school year," said Sheriff Jay Koon, according to The State.
There's also been regular old assault. In the Queens borough of New York City, Joseph Pulitzer Middle School teacher Ramiro Cruz, 52, was charged with assault for grabbing and twisting a student's hand when the 13-year-old wrote down what he was saying on a piece of paper. The student suffered a swollen sprained middle finger, police said.
Douglas Ford, a middle school teacher in Oklahoma City, was charged with assaulting two students. One student had asked him to use the bathroom, but he said to wait until after class. However, when the student and a friend tried to enter the restroom after the bell rang, Ford was blocking the entrance. The students tried to get past Ford, who pushed one of them in the chest and knocked him backward. The teacher also "used his body to pin (one of the students) in the corner," court documents said. The alleged assault-and-battery incident occurred in January.
At least one teacher perhaps tried to have too much fun with her students. High school Spanish teacher Kimberly Smith and her husband David turned themselves into authorities in Spanish Fort, Alabama and were charged with providing alcohol to minors, a misdemeanor. The couple hosted a post-prom party for six students, including their daughter, where they provided food and alcohol. Mrs. Smith asked the students to "give her their car keys and phones so they would not drink and drive or post images on social media of the party," as well as to "not tell anyone" so she wouldn't get in trouble or lose her job, the Baldwin County Sheriff's Office said.
You can share this story on social media: