Fake news? Atlanta news org changes man's name during NYE coverage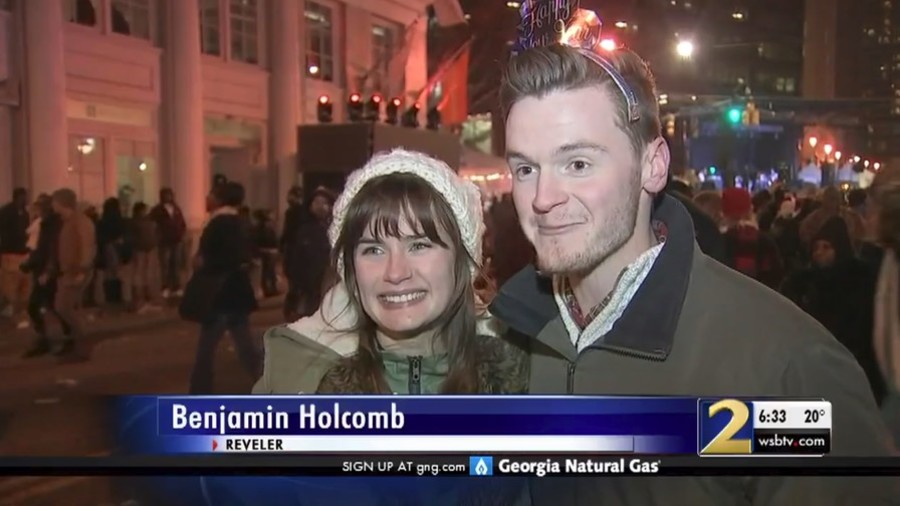 Atlanta realtor Hunter Fisher was pleased to be interviewed by local news station WSBTV on New Year's Eve - until he discovered he had been given a fake name by the network because it didn't believe his own could be real.
"Emma and I made it on TV but the camera guy didn't believe my name was Hunter Fisher so he just made one up for me," Fisher wrote in a tweet that has since been shared over 28,000 times.
READ MORE: Fireworks, freezing and flames: How the New Year was celebrated across America (VIDEOS, PHOTOS)
WSBTV gave Fisher the name Benjamin Holcomb instead, which is also the name of a California author. Someone pointed this out on Twitter, and the real Holcomb joined in with the fun.
Despite the mistake, the victim does not seem to be offended. He believes the story exploded because it's easy to associate it with the general 'fake news' trend that is prevalent in the US media.
"That is kind of an obscured name even to change from Hunter Fisher. I think it was just a fluke," Fisher told RT.
"And I do think it is important to make sure that you fact check everything you get from every news cause it is a big thing."
"That is another reason why I think it blew up so fast, because of the whole fake news sort of storyline. It was kind of timely. It was relatable. And so I think that is the real reason why it caught up so fast. I'm sure with you going through some of the replies I got on Twitter, you saw a lot of it was, 'oh, this is fake news, oh this brings fake news right into 2018.' I got a lot of that response... But like I've said I do encourage people to just make sure they keep fact checking no matter what news source it comes from," he added.
Fisher was featured in the channel's New Year's Eve coverage, and told the network it was his first time seeing Atlanta's signature large peach drop at the celebrations.
Curiously, none of the other people featured in the segment were given any names, real or otherwise.
You can share this story on social media: