Fireworks, freezing and flames: How the New Year was celebrated across America (VIDEOS, PHOTOS)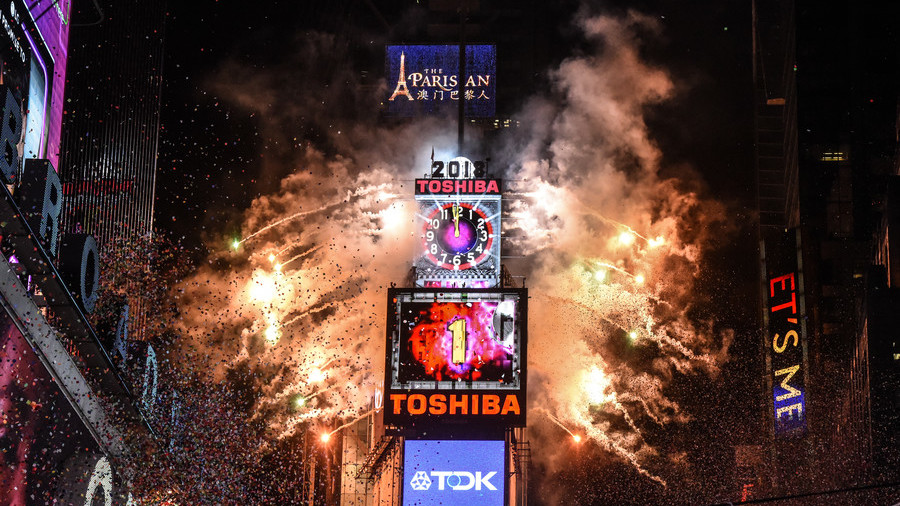 From New York to Las Vegas, America's major cities put on impressive parties to ring in the New Year on Sunday night.
New York
New Yorkers braved temperatures of 10°F (-12°C) in order to usher in 2018 in Times Square – one of the most renowned New Year's celebrations in the world.
After a calamitous outing last year, during which she stopped singing and asked the audience to finish the song for her, Mariah Carey successfully made it through her set on the famous New Year's Rockin' Eve show. Britney Spears and Kelly Clarkson also performed on the ABC program.
The freezing temperature made it the coldest New Years' celebrations in the city since 1917.
Las Vegas
One of the most impressive shows in the US took place in Las Vegas, where an eight-minute-long event launched thousands of fireworks from the rooftops of seven casinos.
Security was incredibly tight at the event in the city, which suffered the largest mass shooting in modern US history in October. "It's not pleasant to see so many officers... They are everywhere," one of the spectators, Dominguez, told the Las Vegas Sun during the celebrations.
Remarkably, the paper reports that 300,000 visitors congregated on the Las Vegas Strip to ring in the New Year.
San Francisco
Security was also a notable feature at the San Francisco event, where people could sign up for emergency text alerts that would make them aware of any significant incidents in the city.
"This gives them a chance to get connected to us, we can send emergency alerts for anything that might be going on. It could be police activity, fire activity, or even a major traffic disruption," explained Francis Zamora of the Department of Emergency Management.
Los Angeles
It was a slightly more subdued affair in LA, where around 20,000 people flocked to Grand Park for a party featuring live performances and 3-D video projections.
Seattle
Seattle also had an eight-minute show with the city's famous Space Needle acting as an ideal backdrop for the stunning pyrotechnics display.
Dallas
Reunion Tower hosted Dallas' impressive New Year's celebrations. However the event didn't run entirely smoothly as the city's fire department was called to the building in the early hours of the morning to tackle a fire that sprang up after the remnants of the fireworks caught fire. More than 15 units of the fire brigade attended the scene, NBC reports.
Chicago
Chicago also experienced freezing weather conditions as it rang out 2017 and ushered in the New Year. Despite the temperature dropping to 0°F (-17°C) thousands of people packed Navy Pier to see fireworks light up the skies over Lake Michigan, warming up the city's coldest New Year's Eve since 1969.
You can share this story on social media: