Republicans ask DOJ for criminal probe of ex-British spy Steele who penned 'Trump dossier'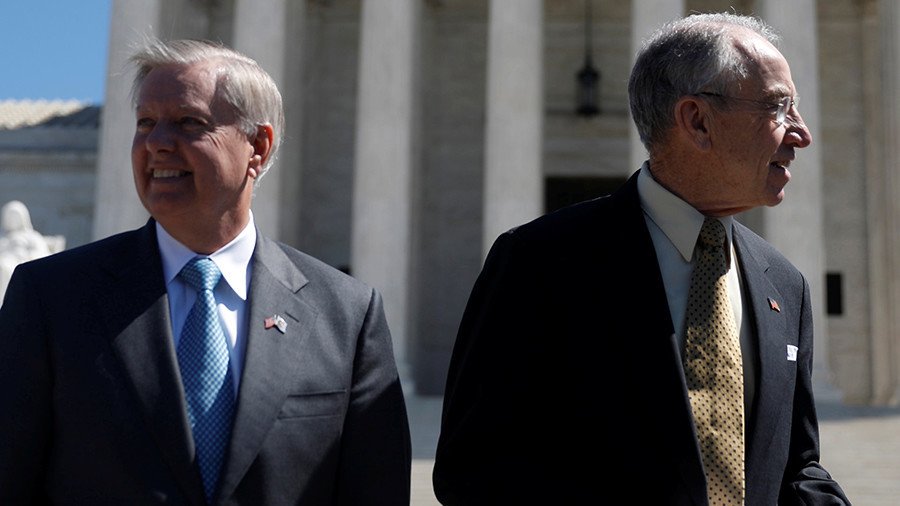 Two leading Republican members of the Senate Judiciary Committee have requested the DOJ to launch a criminal investigation into former UK spy Christopher Steele for making false statements to federal investigators.
The former MI6 intelligence officer authored the so-called "Steele Dossier," commissioned by the opposition research firm Fusion GPS and funded largely by Hillary Clinton's presidential campaign through the Democratic National Committee. The dossier alleged ties between then-Republican presidential candidate Donald Trump and the Russian government.
Senators Chuck Grassley (R-Iowa) and Lindsey Graham (R-South Carolina) told the DOJ Friday they had reason to believe Steele lied to US authorities about his contacts with reporters regarding information in the dossier, according to the New York Times. They urged the DOJ to investigate Steele, who has declined to testify before the congressional committees looking into allegations of Trump's "collusion" with Russia, which appear to be largely based on his dossier.
The criminal referral letter made public by Grassley and Graham is dated Thursday, and refers Steele to the DOJ for "investigation of potential violations of 18 U.S.C. § 1001," for statements he made "regarding his distribution of information contained" in the dossier. The particular statute refers to knowingly making false or misleading statements to federal authorities.
Steele had "repeated contacts" with FBI counterintelligence officials before and after the elections, according to the Times. The FBI even considered paying the former British spy as a source, but "backed off the idea" after the 35-page document was made public in January 2017.
The dossier paints a picture of a conspiracy between the Russian government and Trump to boost his candidacy and to hurt Clinton's presidential bid. It includes allegations of Trump's corrupt business dealings in Russia and salacious claims of his encounters with prostitutes in Moscow hotels.
READ MORE: Senate probe expanded to anyone 'of Russian descent or nationality' – email
While Steele claims the dossier is "70 to 90 percent accurate," US authorities have been unable to corroborate any of it. After it was published, Trump blasted the dossier as "fake news" and a "political witch hunt," while labelling the outlet that published it a "failing pile of garbage."
Fusion GPS was initially bankrolled by a conservative news outlet doing opposition research for one of Trump's Republican rivals, whose identity remains a secret. After Trump clinched the GOP nomination, however, the firm shopped the research elsewhere, and the DNC picked up the tab. Former party chair Donna Brazile later revealed that the party was entirely financed by the Clinton campaign.
Fusion GPS has resisted congressional demands to turn over bank records and other documents that might show how the Steele dossier was funded and distributed. On Thursday, a federal judge in Washington, DC denied the company's efforts to shield its files from federal investigators.
You can share this story on social media: