Trump-Russia dossier funded by DNC & Clinton camp – report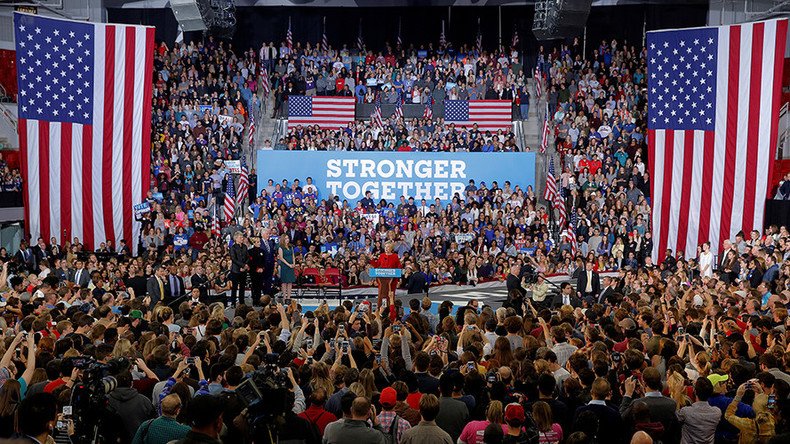 A Hillary Clinton campaign lawyer is caught up in more fallout following a report that the Clinton campaign and the DNC funded the infamous Trump-Russia dossier alleging collusion. Another journalist claims he was misled by the lawyer.
On Tuesday, the report alleged that Marc E. Elias, a lawyer representing the 2016 Clinton campaign, along with the Democratic National Committee (DNC), retained a Washington, DC firm called Fusion GPS in April 2016, according to unnamed people familiar with the matter, who spoke on the condition of anonymity, the Washington Post reported.
Fusion was hired by Elias to conduct research into President Donald Trump's alleged coordination with Russia during the 2016 presidential campaign.
Following Elias' decision to hire Fusion, the firm tapped eventual dossier author, Christopher Steele, to conduct research into Trump. Steele is a former British intelligence officer with ties to the FBI.
Before Elias and his Perkins Coie law firm, tapped Fusion, the DC entity was already conducting research into Trump on behalf of an unknown Republican client during the GOP primary. That research was not compiled into a dossier, however, until the Clinton campaign, through Perkins Coie, carried on with the effort, after the anonymous GOP donor stopped funding the research in April 2016.
Fusion then gave Elias the information that Steele compiled, along with other research, the 'unnamed people familiar with the situation' told the Washington Post.
But New York Times journalist Kenneth P. Vogel tweeted Tuesday evening that Elias claimed his sources were wrong when he attempted to reach out about the story. Another reporter from the Times corroborated Vogel's allegations.
Brian Fallon, a former spokesperson for Clinton and her 2016 campaign manager, who is now employed by CNN, tweeted Tuesday denying any knowledge of how much money Fusion was paid for their services.
"I have no idea what Fusion or Steele were paid but if even a shred of that dossier ends up helping Mueller, it will prove money well spent."
I have no idea what Fusion or Steele were paid but if even a shred of that dossier ends up helping Mueller, it will prove money well spent

— Brian Fallon (@brianefallon) October 25, 2017
Millions of dollars were spent on legal fees to Elias' firm during the time Clinton's campaign and the DNC were involved in funding the research, according to campaign finance records, Zero Hedge reported.
The conservative-leaning co-founder of the Federalist online news publication, Sean Davis, speculated that the Washington Post report was meant to serve as a pretext to help Fusion in its battle against a subpoena.
The whole thing looks like a naked attempt by Fusion GPS to create a pretext for a judge to block a subpoena for its bank records.

— Sean Davis (@seanmdav) October 25, 2017
Trump, who in the past influenced large portions of the news cycle through his tweets, stated his position on the allegations in the dossier before the report surfaced Tuesday.
Officials behind the now discredited "Dossier" plead the Fifth. Justice Department and/or FBI should immediately release who paid for it.

— Donald J. Trump (@realDonaldTrump) October 21, 2017
Earlier this month, House Intelligence Committee Chairman Devin Nunes (R-California) subpoenaed Fusion's founders to disclose who paid for the dossier, but Fusion's founders pled their Fifth Amendment right against self-incrimination last week during a public testimony in front of the committee.
READ MORE: Intelligence insiders call Russian dossier 'complete fraud' – Trump
Nunes subsequently subpoenaed the firm's bank records in an attempt to identify who funded the their research. A deadline of October 27 has now been ordered for the release of Fusion's bank records.
You can share this story on social media: