Intelligence insiders call Russian dossier 'complete fraud' – Trump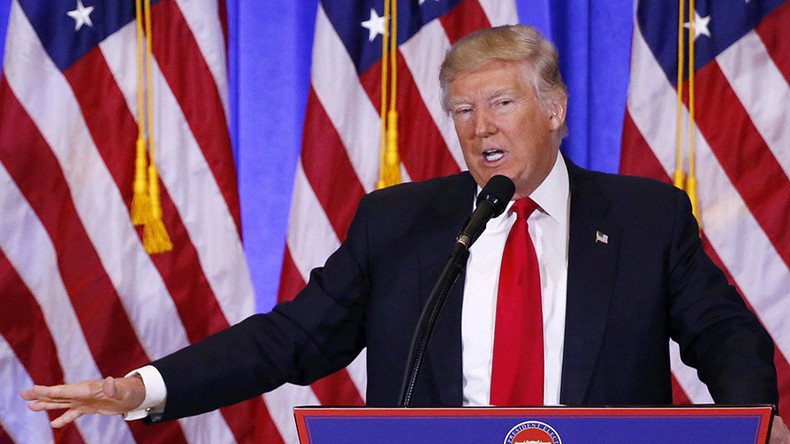 US President-elect Donald Trump said that intelligence insiders have confirmed to him that the much-hyped dossier, alleging that Moscow has compromising evidence on him, was a fake.
"Intelligence insiders now claim the Trump dossier is "A COMPLETE FRAUD!" Trump wrote on his Twitter page.
INTELLIGENCE INSIDERS NOW CLAIM THE TRUMP DOSSIER IS "A COMPLETE FRAUD!" @OANN

— Donald J. Trump (@realDonaldTrump) January 14, 2017
The president-elect, who is to be inaugurated on January 20, didn't specify the members of the intelligence community who came up with the assessment.
On Tuesday, CNN and BuzzFeed reported on a secret dossier, compiled by an unidentified former UK intelligence officer, which, the outlets claimed, contained proof that Trump was groomed and supported by Russian intelligence for at least five years and that he was target of potential blackmail by the Kremlin.
Among the revelations in the dossier was a bizarre story of Trump allegedly hiring several prostitutes to "perform a 'golden showers' show in front of him" on a bed in the Moscow's Ritz Carlton Hotel's presidential suite where Barack Obama and his wife had previously stayed during an official visit to Russia.
Shortly after the story was published, the president-elect blasted the dossier as "fake news" and "a total political witch hunt."
He also labeled BuzzFeed a "failing pile of garbage" and refused to take a question from a CNN reporter during a news conference this week.
Both BuzzFeed and CNN came under fire from prominent journalists, as well as social media, for spreading unverified data obtained from anonymous sources.
READ MORE: 'Stinks from every possible angle': Media blasts Buzzfeed's 'unverified' Trump
On Thursday, US Director of National Intelligence James Clapper released a rare statement, saying that he met with Trump to express his "profound dismay" over the dossier.
"This document is not a US intelligence community (IC) product and… I do not believe the leaks came from within the IC," Clapper said.
It was then revealed that the dossier was put together by former intelligence UK officer Christopher Steele, who now heads the private Orbis Business Intelligence firm.
Steele "has not worked for the UK government for years," British Prime Minister Theresa May said.
READ MORE: Theresa May says Trump dossier spy Christopher Steele 'hasn't worked for UK for years'
Moscow reacted to the unverified report on Friday by saying that what was published by BuzzFeed and CNN "didn't merit to be called a report."
"We have finished the discussion of this fabrication," Kremlin spokesman Dmitry Peskov said. "This is far from being the first such falsehood published, and it is, moreover, really quite base. One simply shouldn't pay any attention to it, as it is now appealing to the emotional frenzy that is dominating in America at the moment."
You can share this story on social media: