Murder most fowl! Chickens decapitated as duo go on Christmas Day rampage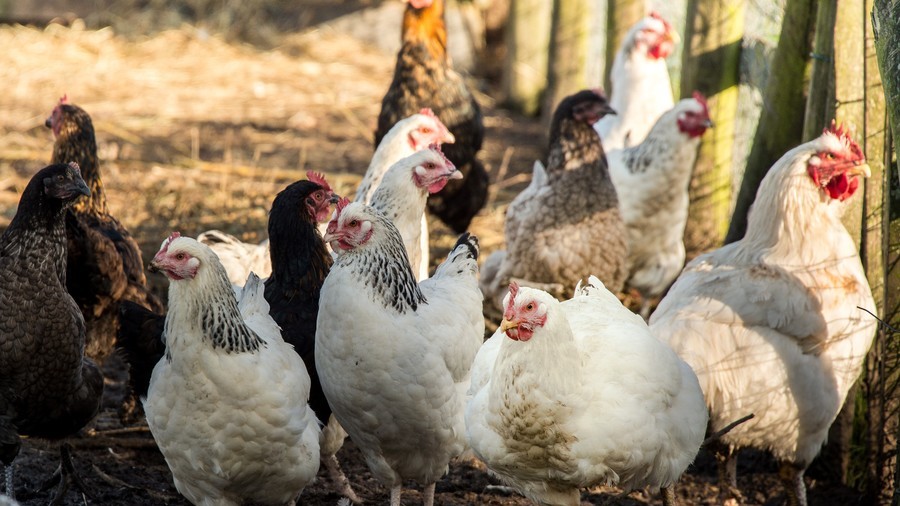 Two men in Connecticut are accused of conducting their very own Christmas Day massacre after allegedly rampaging through the area of Milford and tearing the heads off chickens.
READ MORE: Fowl play: Cops called as chickens run wild on LA freeway (VIDEO, PHOTOS)
Gregory Ulrich, 28, and John Budnovitch, 21, were named in court papers after being arrested and charged with 20 counts of animal cruelty. They were also charged with other crimes related to criminal mischief and property damage. Ulrich's bail is set at $15,000, while Budnovitch's is $5,000. They will appear in court on January 30.
Milford PD have arrested two local men in a gruesome animal cruelty investigation that occurred in the early morning hours on Christmas Day. The two men are accused of stealing and killing 20 chickens from two locations. Full press release later today.

— Milford CT PD (@MilfordCT_PD) January 4, 2018
Speaking to the Hartford Courant, Officer Michael DeVito said the two had been seen leaving a bar early on Christmas morning. Ulrich was reportedly drunk and angry about pictures he'd seen of local people with his wife on social media. In a statement, Milford Police Department said the two then allegedly drove around the Devon section of the city smashing car windows.
"After that they went to two different locations and stole 20 chickens. They killed them with their bare hands. Several chickens were located in the adjacent yards," the statement read.
READ MORE: Secret 'furry' life revelations force Connecticut councilor to resign
DeVito said Budnovtich watched as Ulrich tore the doors off chicken coops before banging the animals off the ground and snapping their heads off. Ulrich was then said to have put the chickens in a bag, telling Budnovtich that he planned to boil the chickens and eat them later.
Other than animal cruelty, Ulrich has been charged with fifth degree larceny, three counts of first-degree criminal mischief, 10 counts of second-degree criminal mischief and interfering with a police officer. Meanwhile, Budnovitch faces charges ranging from conspiracy to commit criminal mischief to operating a motor vehicle while suspended from driving.
You can share this story on social media: