Progressive House Democrat promotes Antifa book in selfie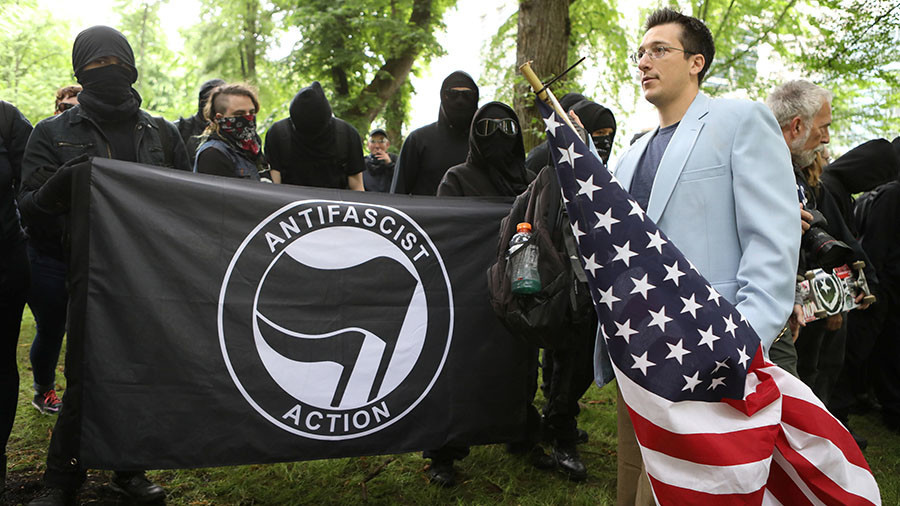 It would "strike fear in the heart" of the president is how US Rep. Keith Ellison of Minnesota promoted a new Antifa handbook, along with a selfie.
Ellison, deputy chair of the political arm the Democratic National Committee, tweeted out a selfie Wednesday with a copy of the book, 'Antifa: The Anti-Fascist Handbook' during a visit to Moon Palace Books in Minneapolis.
The book was written by Dartmouth professor and former Occupy Wall Street organizer, Mark Bray. He claims that "militant anti-fascism is a reasonable, historically informed response to the fascist threat that persisted after 1945 and that has become especially menacing in recent years." He says further that antifa members should be ready to confront fascists physically when necessary, according to the Guardian.
Ellison, who holds the distinction of being the first Muslim elected to the US Congress, shocked ,angered and drew some praise from some on Twitter.
READ MORE: 'New blood' or progressive purge? Democrats reshuffle party posts
Former Republican congressman and current radio host Joe Walsh, blasted his apparent publicity stunt.
President of the Security Studies Group Jim Hanson also sent out a response to Ellison's selfie.
And another user went as far as to ask if the DNC official supports fascism.
However, there were also supporters of Ellison.
Bray appeared on RT America's "On Contact" in October to defend the Antifa movement against criticism from those on the political left.
READ MORE: 'Culture change': DNC orders all staff to submit resignations
"The argument that militant anti-fascists put forward is that if you look at the historical fascism of the '20s and '30s, small groups often grow large. Parliamentary and civil debate can't be consistently be counted upon to stop their advance," Bray said.
"And so, the idea is to organize against small and medium-sized fascist groups as if they could be the germs or seeds of future fascist movements or regimes, and essentially not allowing them to articulate their politics in a collective way, or to become mainstream in society."
You can share this story on social media: