'New blood' or progressive purge? Democrats reshuffle party posts
Published time: 19 Oct, 2017 21:31
Edited time: 20 Oct, 2017 08:12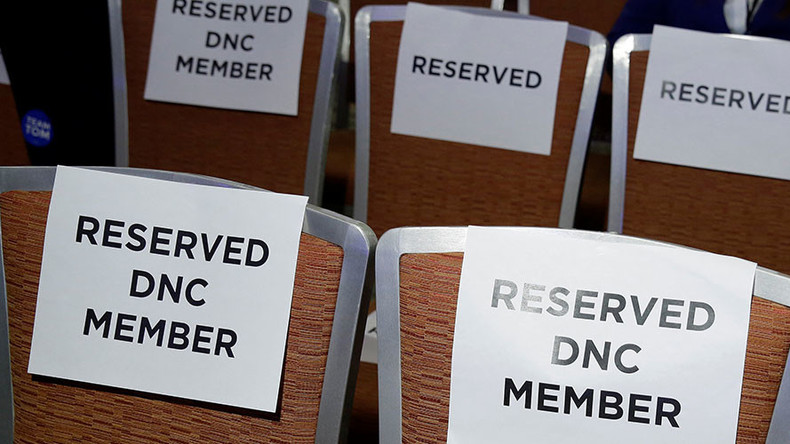 The leadership at the Democratic National Committee carried out an extensive staff purge ahead of their fall meeting in Las Vegas, creating alarm on the left as many members of the divided party's progressive wing were ousted.
Among the veterans not reappointed to key posts was DNC secretary Alice Germond, who lost her at-large membership. James Zogby, a prominent Arab-American known for supporting Vermont Senator Bernie Sanders, was dropped from the executive and resolutions committees.
New Hampshire Democratic Party Chairman Raymond Buckley was not reappointed to the powerful DNC Rules Committee. Buckley, who is openly gay, had been appointed to that post by former chairwoman Debbie Wasserman Schultz. He was replaced by another DNC member from New Hampshire, Kathy Sullivan.
Buckley was initially a candidate to succeed Wasserman Schultz and backed the approach of restoring a 50-state strategy to give state parties more say in the direction and programs of the national party. He eventually endorsed the Sanders-backed Representative Keith Ellison (D-Minnesota) for the job. Ellison lost to former Labor Secretary Tom Perez.
Barbra Casbar Siperstein, the first transgender member of the DNC and a supporter for Buckley and Ellison, was also removed from the Executive Committee.
The staff changes have sparked criticism from organizers and commentators that have argued the Democrats are resisting the changes necessary to bring the party back from the political wilderness.
"I understand the chair can do as he pleases, but still, it's very disappointing," Buckley told reporter after learning of the shakeup, according to WMUR. Buckley was also not appointed to the Executive Committee, where he had been a member since 2001.
"This doesn't bring the party together, it deepens the divide at a time we need all hands on deck," Zogby tweeted on Thursday.
"I'm concerned about the optics, and I'm concerned about the impact," he added, according to CommonDreams. "I want to heal the wound of 2016."
The DNC said the shake-up was aimed at diversity and bringing new blood into party leadership. Among the new additions are Marisa Richmond, a millennial black transgender activists, and Ellie Perez, a DACA recipient.
The annual meeting is where the party elects caucus and council leaders and will focus on organizing in every ZIP code across the US. Members will participate in caucus, council and committee meetings as well as training sessions. There will be one general session to discuss party business on Saturday.
Former Attorney General Eric Holder, who served in President Barack Obama's administration and currently chairs the DNC Redistricting Committee, is scheduled to deliver the keynote remarks.
After their high tide during Obama's first term, the DNC has been forced to contend with a series of defeats, from losing the majorities in the Senate and the House in 2014 to losing the White House in 2016. Currently, 34 US states have Republican governors, and in 26 the GOP has both the governor and the legislative majority.