'Culture change': DNC orders all staff to submit resignations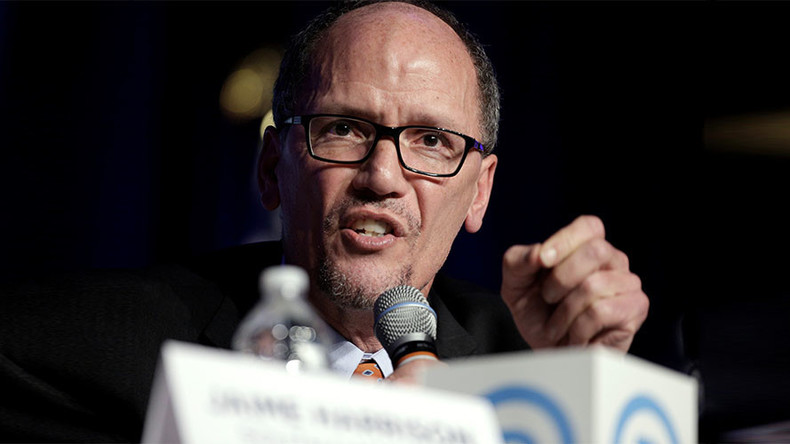 The new leadership of the Democratic National Committee has asked its entire staff to resign as the party seeks to rebuild from the 2016 electoral losses.
Immediately following the hotly contested DNC chair race in February, the winner Tom Perez, a former labor secretary under President Barack Obama, asked the entire DNC staff to submit their letters of resignation by April 15, NBC News reported Tuesday.
DNC spokeswoman Xochitl Hinojosa said Perez has been looking to restructure the party since he took over.
"From the beginning, Tom has been adamant that we structure the DNC for future campaigns. Current and future DNC staff will be integral to that effort," Hinojosa told NBC News.
"Together we'll right the ship and get the Democratic Party in a position to take the fight to Donald Trump and the Republican Party and win," Perez said in a March 15 announcement. He also revealed the creation of a 30-member Transition Advisory Committee, tasked with reviewing current staff members and interviewing new prospects for the restructuring process.
Leah Daughtry, a co-chair of the committee, then reportedly asked every staff member to submit letters of resignation to allow Perez to make a "culture change."
Perez told NBC News last Friday, "We're repairing a plane at 20,000 feet. You can't land the plane, shut it down, and close it until further notice."
During the 2016 election under former chairwoman Rep. Debbie Wasserman Schultz (D-Florida), the DNC was accused of favoring former Secretary of State Hillary Clinton over her opponent in the primaries, Senator Bernie Sanders (I-Vermont), based on allegedly hacked or leaked DNC communications as well as Wikileaks publishing thousands of email exchanges from Clinton's campaign manager John Podesta.
Although it is normal practice for a new party chairman to seek resignations from some staffers, some fear this move may lead to filling the party with those who aligned with Perez, leaving out progressives who backed his opponent, Congressman Keith Ellison (D-Minnesota).
Kait Sweeney, a spokeswoman for the Progressive Change Campaign Committee, said in a March 16 statement that "the initial names on the DNC Transition Advisory Committee include zero leaders of progressive grassroots groups that engage in electoral work and very few movement progressives," according to the Huffington Post.
You can share this story on social media: