This map is dope! Here's where weed is legal in the US (IMAGE)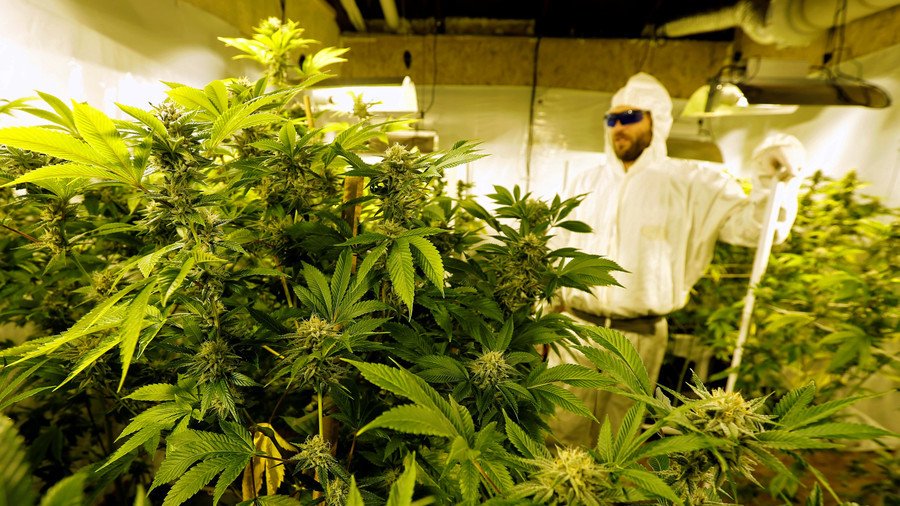 On New Year's Day California became the eighth US state to allow the sale of marijuana for recreational use. The total number of states which have legalized weed in some form is now 29, as well as the District of Columbia.
Demonised in the US since the days of 'Reefer Madness,' marijuana's status has reached a turning point. Legislators see that the benefits of legalization outweigh those of prohibition. After all, money talks, and states which have legalized weed are not only rolling joints, but also rolling in the green.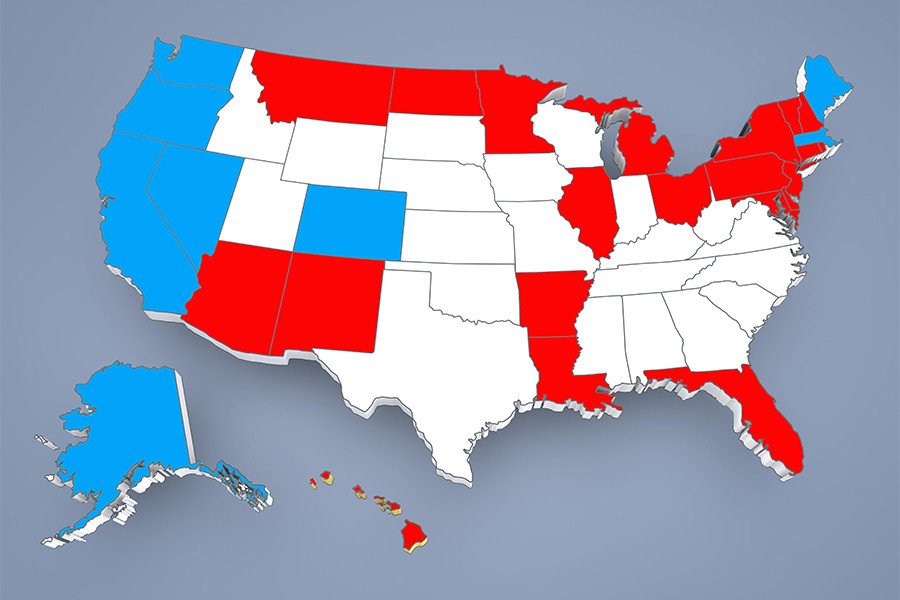 Blue: Legal for recreational use
Red: Legal for medicinal purposes
White: Illegal
Recreational
California has long been a bastion of weed legalization, becoming the first state to regulate the sale of cannabis for medicinal purposes over 20 years ago, in 1996. However, it wasn't until January 1, 2018 that it began selling the plant for recreational purposes.
The pioneers in recreational legalization were Colorado and Washington, which voted in favor of full legalization back in 2012. Residents there can legally carry up to one ounce of their bud of choice.
Washington DC, Alaska, Oregon and Nevada all followed suit. Maine and Massachusetts voted last year to legalize – though presently the herb cannot be bought in either state.
Residents in Massachusetts won't have to wait long, with sales due to begin on July 1, 2018, while Maine is also due to begin selling sometime this year.
Medicinal
In total 29 states, as well as Washington DC, have broadly legalised medical marijuana, including the eight mentioned above. The others are Arizona, Arkansas, whose favorite son Bill Clinton famously admitted to having smoked pot "but didn't inhale," and Connecticut.
Delaware, Florida, Hawaii, Illinois, Maryland, Michigan, Minnesota, Montana, New Hampshire, New Jersey, New Mexico, New York, North Dakota, Ohio, Oregon, Pennsylvania, Vermont and West Virginia make up the rest.
Illegal
More than half of US states now boast some form of marijuana legalization, and many of the remainder have some form of legislation pertaining to special circumstances. For example Alabama and Mississippi both have laws in place permitting the use of medical marijuana for severe epileptic conditions such as Dravet syndrome.
With the tide seemingly turning, and plenty of money to be made on cannabis taxation, many states will likely consider following the path taken by California, Alaska and Colorado.
You can share this story on social media: