Florida man booby-traps door to electrocute pregnant wife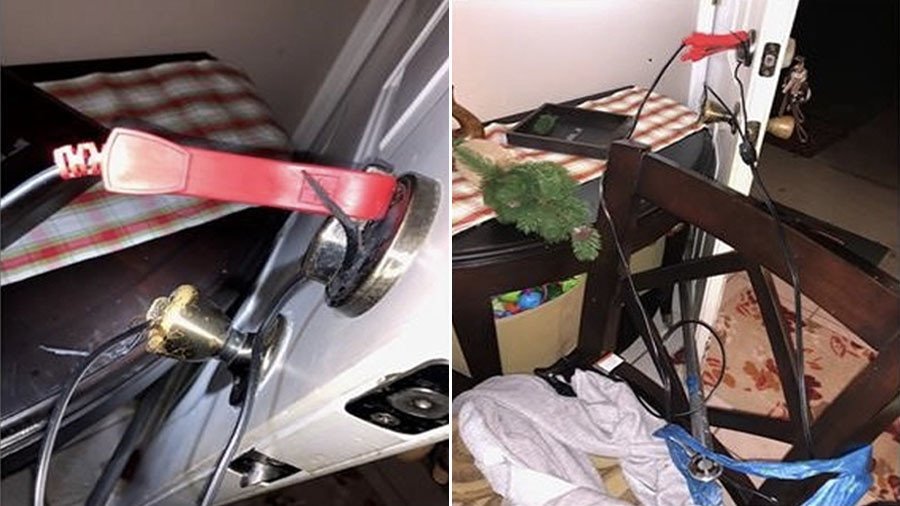 Police say that a Palm Coast man updated his Facebook status to "widowed" before jerry-rigging the front door of his estranged wife's house to a car battery charger, in a failed plan to electrocute her.
Michael Wilson, 32, was arrested after police found an elaborate system of wires and electrical devices had been set up on the inside of his wife's front door "in an attempt to cause great bodily harm" to her, the Flagler County Sheriff's Office said in a Facebook post Friday.
Police were called to the scene by Wilson's father-in-law, who owns the house, after he became suspicious of comments his son-in-law made.
According to a police report obtained by WATE, Wilson instructed his estranged wife to "make sure you use the front door because the garage door is not going to open," while also warning her to "make sure [redacted] isn't with you because I don't want her getting hurt."
Wilson's wife, who was visiting family out of town, relayed the suspicious comments to her father, who then contacted police to ask if they would conduct a security check of a property.
"Somebody broke into the house, it looks like, and just tampered with everything and actually, the door is like blocked," Wilson's father-in-law told police on the 911 call, according to a recording obtained by the Daytona Beach News-Journal.
When deputies arrived on the scene, they found the front door of the house was barricaded and there were burn marks near the door handle.
A deputy who kicked the door said he saw a "large spark," according to the Facebook post.
Once inside, police found electric cords and wiring taped to several chairs. The cords were leading from the top door lock and the lower door handle to a car battery charger.
Steven Bray, a lineman from Florida Power and Light, told police that if someone were to close the circuit by touching both the door lock and the handle at the same time, they would have an 80 to 100 percent chance of "suffering death or great bodily harm," according to the affidavit obtained by the Daytona Beach News-Journal.
Deputies also said Wilson stole a firearm from the house that belonged to his father-in-law.
"This is one of the most bizarre domestic violence cases I have seen in my career," Flagler County Sheriff Rick Staley said in the Facebook post. "Not only did this man plan to electrocute his wife, but he could have injured a deputy or any person attempting to enter this residence."
Wilson was arrested Thursday in Knoxville, Tennessee. He was charged with two counts of attempted aggravated battery on a pregnant person and one count of grand theft of a firearm. He is currently being held on a $150,000 bond and will be extradited to Florida to face charges.
Police say the investigation is ongoing and Wilson may face additional charges.
After his arrest, deputies discovered that Wilson recently changed the marital status on his Facebook page to "widowed," according to the Florida Times-Union.
The cover image on his Facebook page also shows him brandishing two handguns and the introduction text brags that he is "the guy your father warned you about…"
Wilson's wife told investigators that she had filed for a divorce earlier in the month after Wilson had been committed to a mental health facility, according to the Florida Times-Union.
You can share this story on social media: