Biden told ex-Ukraine President Yanukovich to resign, former VP reveals in memoirs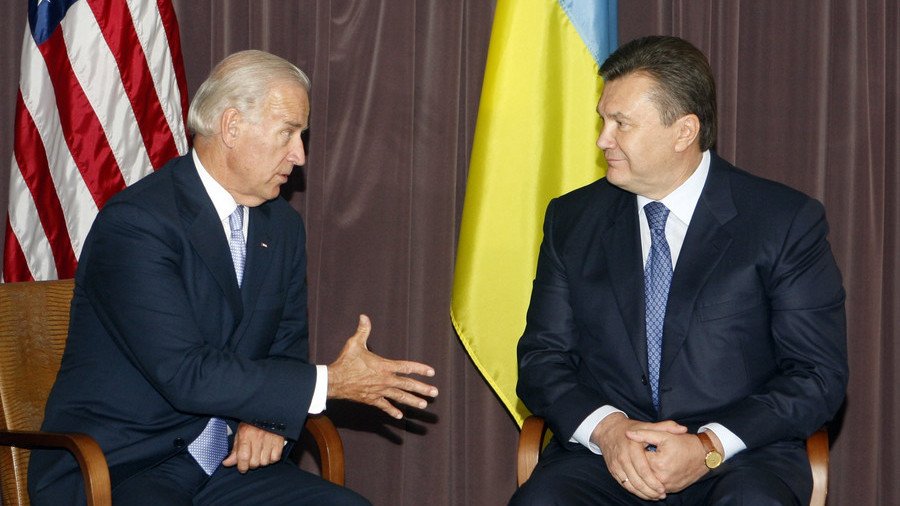 Joe Biden bluntly demanded that former Ukrainian President Viktor Yanukovich resign back in 2014, the former US vice president revealed. He also confirmed the US was deeply involved in Kiev's affairs during that year's crisis.
From the very beginning of the Ukrainian crisis, the US sought to direct Yanukovich in his handling of the riots on Maidan Square that eventually led to a coup in Ukraine, Biden says in his new book titled "Promise Me, Dad: A Year of Hope, Hardship And Purpose," which was published in November, but has now been brought into the media spotlight in connection with the US's role in the crisis. Biden reveals that he repeatedly called the then-Ukrainian president, telling him what he should or should not do.
At some point, Biden outright demanded that Yanukovich, a legitimately-elected leader of a sovereign nation, resign because he had "lost the confidence of the Ukrainian people" from Washington's point of view. "I was telling him [Yanukovich] it was over; time for him to call off his gunmen and walk away," Biden writes in his book, referring to "the last of [his] urgent calls to Yanukovich in late February of 2014."
The former US vice president also claims that it was Yanukovich and his loyal law enforcement forces who were responsible for the Kiev massacre back in 2014. In fact, the events, in which unknown snipers gunned down dozens of protesters and several police officers in central Kiev, remain largely unsolved years nearly four years on. The investigation of the tragedy was de facto put on the back burner by the new Ukrainian authorities.
The probe initially managed to produce several suspects, with all of them being Berkut riot police members, even though it was known from the very beginning that sniper fire initially came from protester-controlled positions. Later, the head of an MP committee probing the mass killings mentioned "unidentified public organizations" as possible culprits, but no charges were known to have been placed. These facts, however, never stopped Biden from accusing Yanukovich of "loosing his riot police on the streets of Kiev… to murder demonstrators" and declaring the ousted president the main culprit behind the crisis.
Biden on Poroshenko govt: 'Bickering' leaders with 'penchant for corruption'
Even though the new Ukrainian government, which came to power after the coup, was far more agreeable to US officials, it garnered no particular praise from the former US vice president. Biden calls former Ukrainian Prime Minister Arseny Yatsenyuk "a young patriot" and repeatedly draws attention to his efforts to support the "emerging Ukrainian democracy," but at the same time complains about "bickering" within the Ukrainian elites and their reluctance to put "loyalty to country" over their personal interests.
"I had spent months exchanging phone calls with both [President Petro] Poroshenko and Yatsenyuk, trying to convince them each, separately, to put loyalty to country over loyalty to political party," Biden writes, referring to Ukrainian President Poroshenko alongside Yatsenyuk, who was eventually dismissed from the government in 2016. He also repeatedly mentions the two politicians' "stubborn unwillingness to work together."
Widespread corruption in Ukraine seems to be another issue that constantly irritated Biden. The former official admits that he had to be "hard on Poroshenko since his election" and to constantly urge him to "continue to fight the elements of corruption that were embedded in the political culture of Ukraine's Soviet and post-Soviet governance," particularly in the president's own party.
Biden claims he went as far as to direct almost each step of the Ukrainian authorities. "Now you've got to put people in jail," Biden says he told Yatsenyuk when the Ukrainian official came to the US. He also admits that he "had been on phone with either Poroshenko or… Yatsenyuk, or both, almost every week" for months.
However, Biden believes the present Ukrainian government "had exhibited a penchant for corruption, self-dealing and self-destructive behavior." He also points out that Europe was in fact reluctant to support the idea of anti-Russian sanctions and he had to repeatedly remind Poroshenko "not to give the Europeans any excuse for walking away from the sanctions regime against Russia." Indeed, anti-Russian sanctions appear to have been of particular importance for Biden, as he seemed much more concerned about keeping them in place than about Washington's European allies.
Biden also admits that he had a low opinion of the Minsk Accords aimed at bringing about peace in Ukraine. However, he seemingly fails to understand their purpose, describing the initial 2014 deal as something that "did little to hold [Russian President Vladimir Putin] back."
Biden believes that Russia – which is not even a party to the treaty – is not fulfilling its commitments under the agreements. The OSCE-brokered Minsk Agreements between representatives of Kiev and the breakaway rebel regions of eastern Ukraine were hammered out by Ukraine, Russia, France and Germany, and formed the basis for a lasting ceasefire. However, the deal's implementation has been largely stalled by Kiev's refusal to uphold its part, including amnesty for rebel fighters and special autonomous status for the regions they control.
You can share this story on social media: