Putting a $70mn price tag on friendship: Ukraine seeks to sell cultural center in Moscow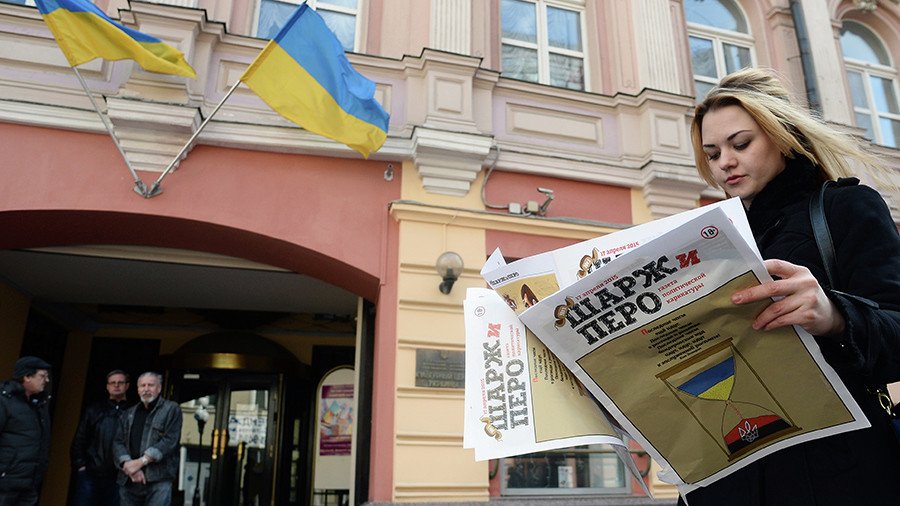 A group of Ukrainian lawmakers are lobbying to repeal a treaty with Russia governing information and cultural centers, which would allow the Kiev government to sell its cultural-center building in Moscow, according to a Russian daily newspaper.
Izvestia reported on Tuesday that a number of Ukrainian MPs led by MP Irina Friz have prepared a bill to scrap a 1998 agreement between Russian and Ukrainian governments, which regulates the work of the countries' cultural centers in each other's territory.
The Ukrainian sponsors of the bill claim that Russia is an "aggressor nation" and have called for all contacts between the two states to be reduced to an absolute minimum. However, Izvestia quoted several MPs from the opposition caucus, the 'Pyotr Poroshenko Bloc,' as saying there were financial reasons behind the motion. The sources said that those seeking to sever cultural relations between Moscow and Kiev want to profit from the sale of the building, which currently houses the Ukrainian Cultural Center in Russia.
"On one hand, there are political and ideological reasons behind it. … On the other hand, the Ukrainian Cultural Center is a building in the very center of Moscow, on Arbat Street. The book value of this real estate is about $4 million, but the market price stands at about $70 million. Do you understand what profit can be made on this? It would both generate political points from an anti-Russian stunt, and make money on the price margin," one of the unnamed sources told Izvestia.
The Ukrainian lawmakers also said many of them were opposed to the plan to sever cultural ties between the two nations, saying that such a move could lead to great losses in future, when relations between the countries eventually improve.
In October, the Ukrainian parliament, the State Rada, passed the first stage of the bill that refers to Russia as an "aggressor state," and gives the Ukrainian president powers to use the military for solving ongoing conflicts with self-proclaimed republics in Donbass, as well as purely internal Ukrainian conflicts.
The Russian Foreign Ministry's spokesperson Maria Zakharova commented on this step by saying that any law regulating the relations between Kiev and the Donbass republics must be in line with Minsk accords, and promised to give a more detailed appraisal after Russian experts study the full document.
You can share this story on social media: