Hitler's 'majestic, yet infamous' parade Mercedes to go under the hammer in US auction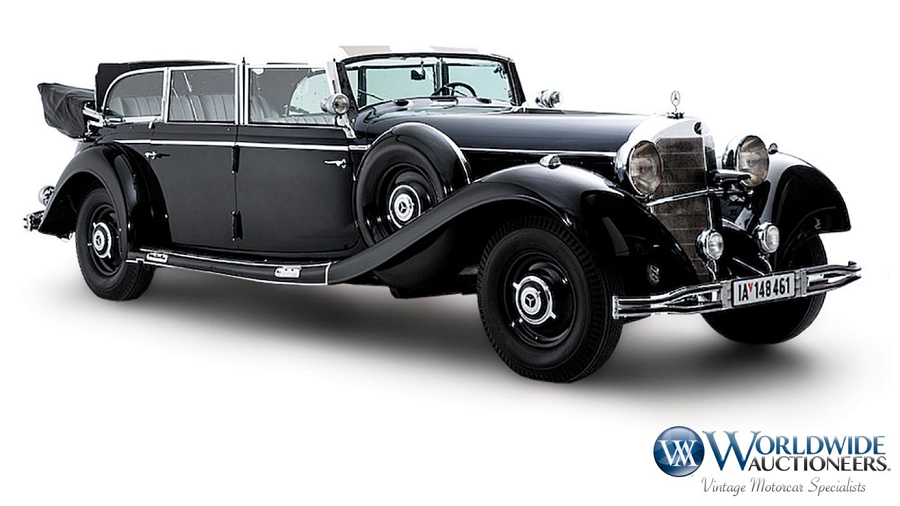 A vintage Mercedes-Benz 770K, allegedly from Adolf Hitler's personal garage, will be auctioned in Arizona next year, with ten percent of the selling price to be donated to educational projects on the Holocaust.
The 1939 Mercedes-Benz 770K Offener Tourenwagen – the "Super Mercedes" parade car had been used by "none other than Adolf Hitler," said Worldwide Auctioneers, the company who will facilitate the Scottsdale Auction in mid-January.
Also known as the "Grosser," the car "did not choose its user or its use," the lot description reads. However, it still remains "quite likely the world's greatest achievement in terms of automotive design, engineering, and construction." The Super-Mercedes was specially built for the Nazi Germany leader, with details specified by an SS officer and Hitler's driver, Erich Kempka.
The vehicle boasts quite an "impressive and extensive" set of built-in security gear, including a 30mm bullet-proof windscreen and armoured body panels. Initially designed as a guest car, it allegedly carried Hitler on several parades, marking the visit of Italy's Fascist dictator Benito Mussolini, as well as the invasion of France in 1940, auction organizers claim.
Following the Nazi defeat in World War II, the car ended up in France as a trophy of the American forces. The vehicle then made its way across the Atlantic, where it had been traded several times. One of its former owners learned the car was actually one of the four "Fuhrer-cars."
While the starting bid for the controversial lot has yet to be announced, organizers emphasized its display is "not to glorify Hitler and his destructive policy," but rather, "to show one of the outstanding cars of the century," citing a historian at the Canadian War Museum in Ottawa, Ludwig Kosche. Ten percent of the purchase price, the auctioneers promised, will be donated and used "to educate how and why the Holocaust happened and how to effectively prevent such atrocities in the future."
You can share this story on social media: