Hitler's 'surprisingly large' underpants expected to fetch $5k at US auction (VIDEO)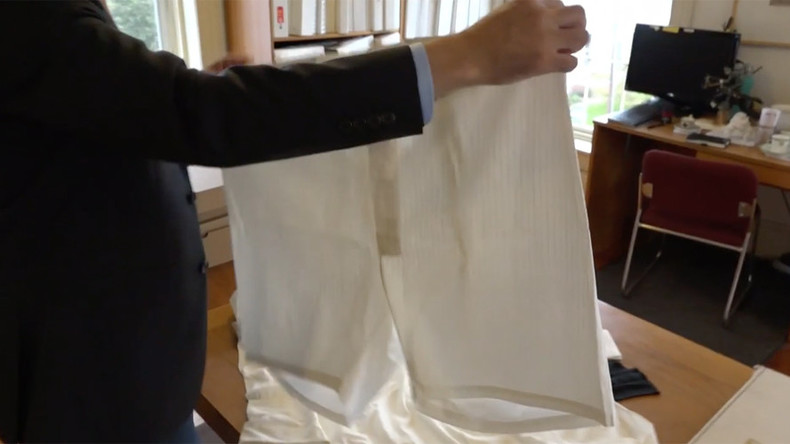 A pair of Adolf Hitler's monogrammed size 39 underpants, together with a rare signed copy of his rambling "Mein Kampf" manifesto and other Nazi memorabilia, are due to be auctioned off in Maryland.
"'Only in battle will the noble man survive!' Adolf Hitler on 18 August 1930," reads the inscription on the inside cover of the book.
Alexander Historical Auctions, a respected auction house in the US that has sold items from both world wars and the US Civil War, will conduct the online sale on September 13-14.
"Signed copies of Mein Kampf are difficult enough to obtain, copies with such a signed quote are only very rarely seen," the auction house said.
The copy of Mein Kampf is expected to sell for between $15,000 and $20,000, while his underpants, described by the auction house as "surprisingly large" (19 inches long with a 39-inch waistband) are expected to sell for between $4,000 and $5,000.
The monogrammed underpants are described as being in "as new condition" as Hitler reportedly left them behind following a stay at Austria's Parkhotel Graz in 1938.
The World War II auction will also feature: a desk clock that was partially melted in the blast of the Hiroshima atom bomb, the US flag that flew over fleet headquarters at Pearl Harbor at the time of the Japanese attack and another US flag which was flown by a landing craft during the D-Day landings, which is expected to fetch over $250,000.
Some of the more macabre items for sale include Nazi instructions on how to build a gas chamber and a companion instruction manual entitled, "Sterilization, Decontamination and Disinfection Employment Instructions for Hospital and Laboratory of the Hygiene Institute of the Waffen-SS, Book 3."
"The shameful events we witnessed in Charlottesville… underscore the need to preserve this material, display it, and educate those who so clearly don't comprehend how they evoke the horrors of World War II," the auctioneer told The Washington Examiner.
You can share this story on social media: