VP Mike Pence makes surprise trip to Afghanistan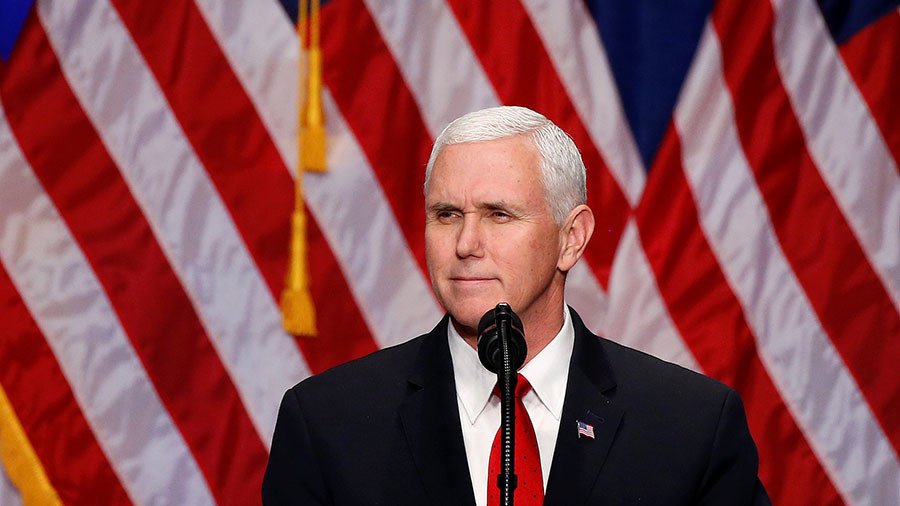 Vice President Mike Pence has arrived in Afghanistan in a surprise trip, greeting US troops and Afghan leaders. He recently canceled a trip to the Middle East to oversee the tax overhaul vote.
Pence flew in late Thursday night on a military plane landing at Bagram Airfield, the largest US airfield in the country, according to Reuters. CNN reported the plane to be a grey C-17 military transport plane. Pence then reportedly donned a bulletproof vest and then flew in an armed helicopter convoy to meet Afghan President Ashraf Ghani and Chief Executive Abdullah Abdullah at the presidential palace in Kabul.
The surprise trip to Afghanistan marks the first by either him or President Donald Trump. Reporters traveling with Pence agreed to keep the trip secret up until an hour before the US vice president was scheduled to depart back to the US, according to CNN.
Pence reportedly told Afghan leaders that he hoped to symbolize the US' willingness to "see this through," referring to the longest US war in history, of which there is no calculable end date.
"We believe that we are now on a path to achieving a lasting victory for freedom and security in Afghanistan," Pence said in Kabul, CNN reported.
Pence rallied with several hundred US troops at the Bagram base after addressing Ghani and other leaders.
"The United States of America will no longer be bound by arbitrary timetables in Afghanistan. As the President said, America's enemies must never know our plans. They must never believe they can wait us out. Instead our decisions will be based on an objective assessment of conditions on the ground," Pence said, according to CNN. "A relentless pursuit of victory will guide us and nothing else."
US troops in Afghanistan had reportedly been on a special 'Notice to Move' alert following the US' decision to officially recognize Jerusalem as Israel's capital and plan an embassy move there, according to Military Times.
READ MORE: Trump's change of heart: Afghanistan strategy marks dramatic switch for US president
In August, Trump unveiled a new strategy for victory in the 16-year-old Afghanistan war and occupation. Weeks later, Defense Secretary James Mattis signed an order to increase US troop levels there. Currently, it is estimated that over 15,000 troops are in the country.
"My original instinct was to pull out – and, historically, I like following my instincts," Trump said in August during his speech at the Fort Myer military base in Arlington, Virginia. "But all my life I've heard that decisions are much different when you sit behind the desk in the Oval Office; in other words, when you're President of the United States."
READ MORE: Amen corner? Top US Army general says Afghan war has 'turned a corner'
You can share this story on social media: