Old need not apply: Companies sued for age discrimination in Facebook ads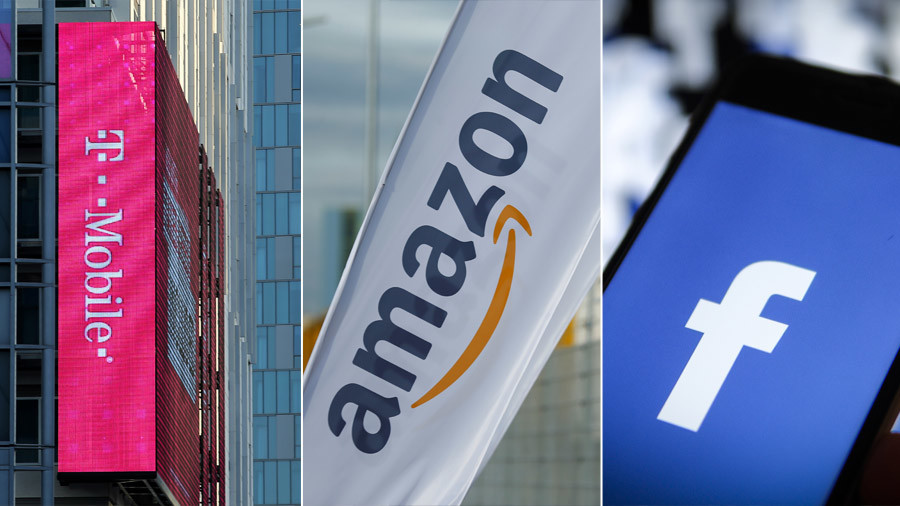 Three plaintiffs have filed a class action lawsuit against T-Mobile, Amazon, Cox and dozens of other large US employers, for allegedly excluding older workers from seeing job ads on Facebook's paid advertising platform.
Linda Bradley, Maurice Anscombe and Lura Callahan contend in their complaint that "hundreds of major American employers and employment agencies routinely exclude older workers from receiving their employment and recruiting ads on Facebook… deny[ing] older workers job opportunities… by targeting their ads to younger workers."
The lawsuit was filed in federal court in San Francisco, California, on Tuesday. Plaintiffs were joined by the Communications Workers of America trade union.
The complaint includes dozens of pages showing screenshots of ads on Facebook, where T-Mobile, Amazon, Cox Communications and other companies targeted their job recruitment ads to people ages 18-38 or 22-45. By doing so, the employers violated federal, state and local laws that prohibit age discrimination in employment advertising, recruiting and hiring, the plaintiffs say. They seek an injunction to "stop America's leading companies from engaging in unlawful age discrimination."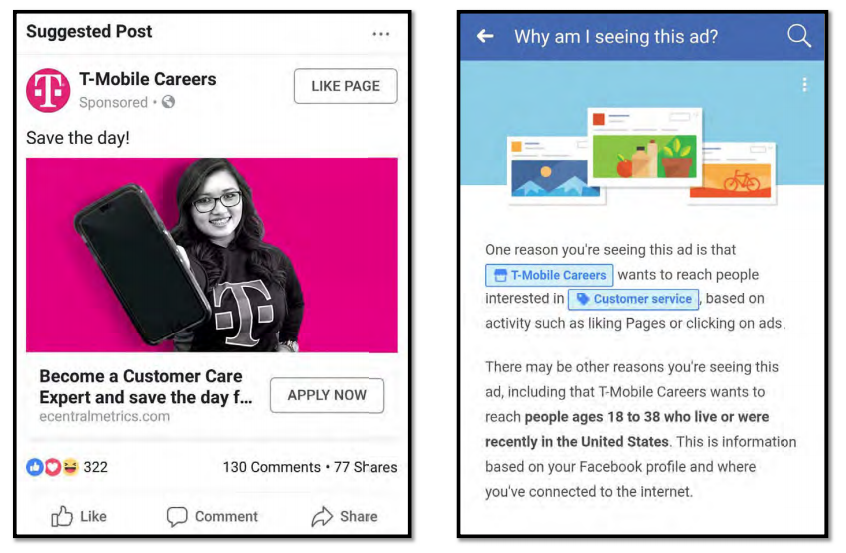 By limiting which age groups see the ads, an older worker who loses a job and is looking on social media for employment "likely has no idea that major American companies are purposely refusing to tell her about the next job opportunity to may help her feed her family or make her next mortgage payments to stave off a devastating foreclosure," the complaint said.
"[Older] workers may finally understand why their job searches - that have migrated in recent years - are more difficult than they ought to be," it added.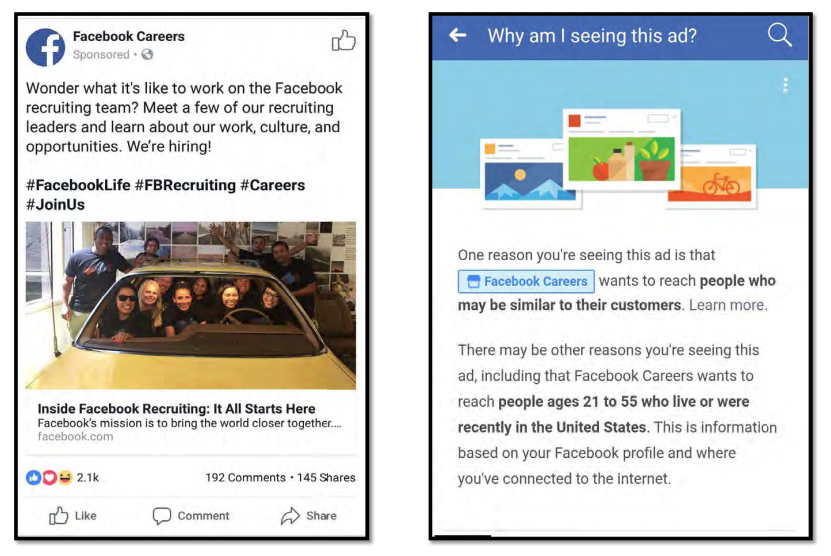 Bradley, 45, lost her long-standing job at a call center in Franklin County, Ohio. She regularly uses Facebook to seek employment opportunities.
"On one occasion that Ms. Bradley received an employment ad via Facebook on her Facebook News Feed, she contacted the employers to inquire about an open position...but was routinely denied employment," the lawsuit said.
Callahan, 67, also lost a job at a call center in Franklin County, Ohio, and "has routinely been denied employment advertisements and recruitment that similarly situated workers have received in Ohio."
Anscombe, 57, became unemployed having previously worked as a cable technician for almost two decades. Before that, he was in law enforcement. He also regularly used Facebook to seek employment opportunities and "has routinely been denied employment advertisements that similarly situated workers have received in Maryland," the complaint said.
Among other claims, the plaintiffs are seeking a declaration that the practice violates various state laws prohibiting age discrimination in employment, and punitive damages for economic harm they suffered.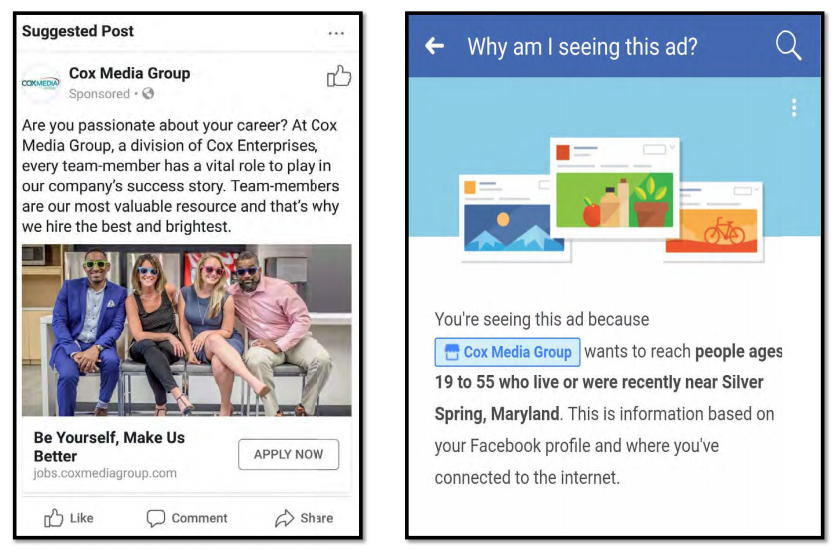 The case was filed several days after the 50th anniversary of Congress passing the Age Discrimination in Employment Act, and on the same day the New York Times and ProPublica published a joint investigation raising concerns over job ads aimed at younger age groups on Facebook, Google and LinkedIn.
A @ProPublica investigation found that dozens of companies buy job recruitment ads on Facebook that target young people and effectively shun older people from those opportunities. Amazon, Verizon, Goldman Sachs and Facebook all used this kind of targeting https://t.co/BMxywx9mg2

— Hamza Shaban (@hshaban) December 21, 2017
"Simply showing certain job ads to different age groups on services like Facebook or Google may not in itself be discriminatory — just as it can be OK to run employment ads in magazines and on TV shows targeted at younger or older people. What matters is that marketing is broadly based and inclusive, not simply focused on a particular age group," Rob Goldman, Facebook's vice president of advertising, said in a statement.
You can share this story on social media: