Walmart treats pregnant women as 'second-class citizens', new lawsuit claims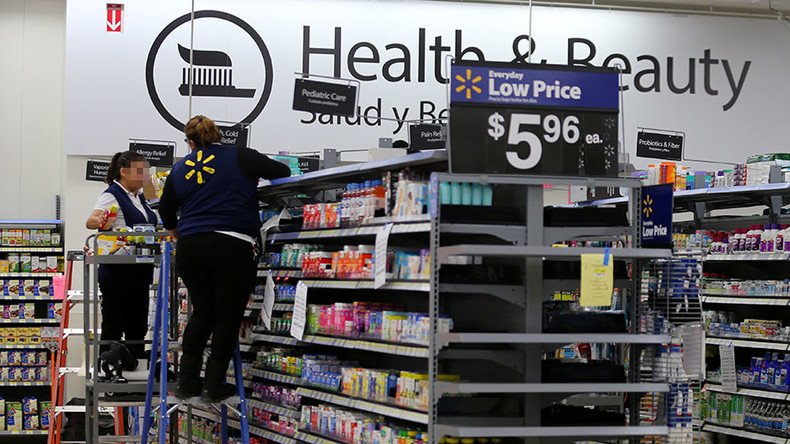 Two women have sued Walmart, America's largest private employer, claiming it discriminates against pregnant employees. The suit seeks class-action status, and comes as a settlement has been proposed in another discrimination case against the company.
Talisa Borders and Otisha Woolbright say that, until 2014, Walmart had a company-wide policy that denied pregnant workers the same accommodations as workers with other disabilities, treating expectant mothers as "second-class citizens."
That policy, they said, was in violation of federal law, which requires employers to treat pregnancy as a temporary disability and provide work accommodations to pregnant women. Such accommodations include providing "light duty, alternative assignments, disability leave, or unpaid leave to pregnant employees if it does so for other temporarily disabled employees,"according to the US Equal Employment Opportunity Commission (EEOC).
If the proposal to turn the case into a class-action lawsuit is accepted, it could include at least 20,000 women and possibly up to 50,000 who worked at Walmart while pregnant before the policy was changed.
Borders worked at a Walmart in Illinois, where she was reprimanded for asking her co-workers to climb ladders and lift heavy boxes for her during her pregnancy. She was forced to take unpaid leave, and her pay was $2.00 less per hour when she returned, according to the lawsuit.
Woolbright worked at a Walmart in Florida. Her manager in the deli department told her that pregnancy was "no excuse" for avoiding heavy lifting, according to the lawsuit. She was fired after injuring herself lifting trays that weighed up to 50 lbs and then making inquiries about Walmart's pregnancy policy, she said.
In March 2014, the Arkansas-based company changed its policy, but lawyers for the two women say the new version did not go far enough to protect expectant employees, and they are considering filing a second lawsuit over the new policy, Reuters reported. It is unclear whether that separate lawsuit over the new policy would also seek class-action status.
One woman who could join the second lawsuit is Candis Riggins, who filed a pregnancy discrimination charge with the EEOC against Walmart in December 2014, after the company changed its policy.
Riggins was a maintenance worker in Maryland, and became sickened by toxic cleaning chemicals she was using at work. When she gave her Walmart managers a doctor's note and asked to be temporarily transferred to another position during her pregnancy, she was instead told twice to take a career preference test, the complaint read. She was never reassigned, and was eventually fired, two months after the new pregnancy policy went into effect.
"I didn't hear back from anyone," Riggins told the Washington Post at the time she filed the complaint. "Even though I wasn't able to stomach anything."
In response to Riggins' case and those like hers, Senator Bob Casey (D-Pennsylvania) introduced the Pregnant Workers Fairness Act in June 2015, but it never gained any traction. A similar bill was introduced in the House by Representative Jerrold Nadler (D-New York). It was referred to committee, but never went any further in the process.
The new lawsuit comes as a settlement has been proposed in a different class-action case claiming discrimination. In that suit, the plaintiffs say that Walmart denied health benefits to the same-sex spouses of its employees.
The lead plaintiff, Jacqueline Cote, worked as an associate in Massachusetts from 2006 to 2012. During the annual open enrollment periods for benefits, Cote attempted to add her wife to her insurance. Same-sex marriage has been legal in the Bay State since 2004.
"When Cote entered her spouse's gender as 'female,' the online system would stop her from proceeding further," the lawsuit said. "When she called Walmart's home office to investigate, she was told that Walmart did not offer health insurance coverage to same-sex spouses."
Walmart changed its policy in 2013. By that point, Cote's wife was battling ovarian cancer, and faced $150,000 in medical bills. Her wife died last year.
The proposed settlement between Walmart and its current and former employees is $7.5 million, the Springfield Republican reported. A fairness hearing is scheduled for Monday.
You can share this story on social media: