At least 3 people killed as Amtrak train derails onto highway in Washington state (VIDEO)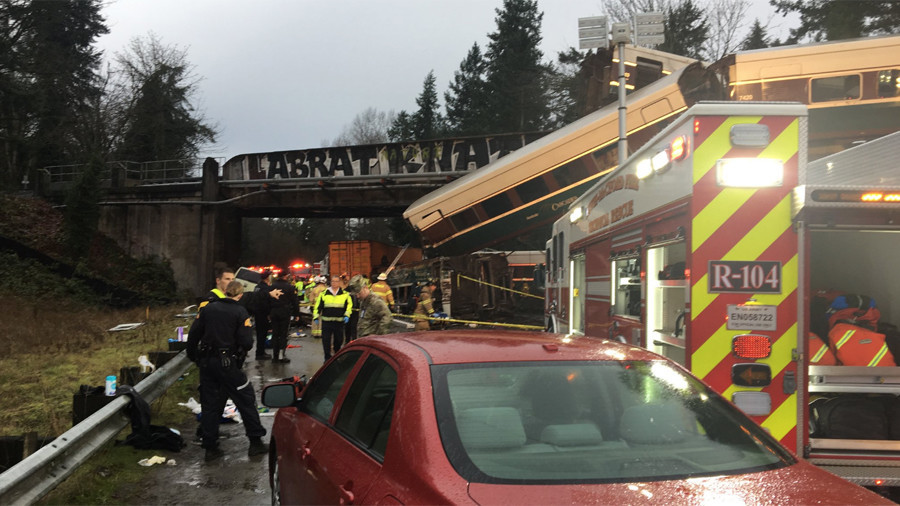 Three people have died after 13 cars of an Amtrak train jumped the tracks, according to authorities. Seventy-seven people were on board with five crew. The train was making its first-ever run along a faster new route.
At least three people have been killed, and 77 people were taken to hospital. Early reports spoke of six dead, but were later revised down. The death count is expected to rise, a US official told AP.
Seventy-seven passengers and five crew members were aboard the Cascade 501 train when it was moving at more than 80 mph derailed about 40 miles from Seattle before 8 am, Amtrak said, according to the Associated Press.
Washington State Patrol Trooper Brooke Bova told reporters Monday afternoon that there were seven crew members, but she would not say how many died.
The train had 12 cars and two engines. Thirteen derailed, according to Washington State Patrol Trooper, Brooke Bova. She said five motor vehicles and two semi-tractor trailers were hit as derailed train cars landed on the south-bound lane of Interstate-5.
Calling the derailment "horrific," Detective Ed Troyer from the Pierce County Sheriff's Office told reporters there are some rail cars emergency responders still can't access. The emergency responders are working on shoring them up before accessing them. There may be more deceased passengers in those cars, Troyer said.
The Pierce County sheriff's office has released photos of the mangled train cars dangling off the overpass and blocking the highway.
The train was traveling from Tacoma to Olympia and derailed just west of DuPont, in Pierce County.
An airlift helicopter is on its way to the scene, according to KIRO.
Seventy-seven people have been transported to area hospitals after the derailment.
Passenger Chris Karnes said those on the train were forced to kick out train windows to exit, as the emergency doors were not functioning correctly.
"We had just passed the city of DuPont and it seemed like we were going around a curve," Karnes said, as quoted by CBS News. "All of a sudden, we felt this rocking and creaking noise, and it felt like we were heading down a hill. The next thing we know, we're being slammed into the front of our seats, windows are breaking, we stop, and there's water gushing out of the train. People were screaming."
"The tracks for this line were supposed to be upgraded to be able to handle higher speeds," Karnes continued. "I'm not sure what happened at this juncture."
President Donald Trump offered his "thoughts and prayers" on a tweet for those involved in the train derailment. He thanked first responders at the scene.
In his first tweet Trump focused on the need for quick approval of a plan for more spending on infrastructure.
The National Transportation Safety Board spokesperson said the agency is sending a team of 20 to the scene to conduct an investigation.
Washington Governor Jay Inslee has thanked the first responders at the scene, and called the incident an "ongoing and serious situation."
The derailment occurred during morning rush hour, and shut down the southbound lanes of Interstate 5, according to the Washington Department of Transportation. Drivers have been advised to avoid the area.
The derailed cars are blocking the south-bound lanes of I-5, causing a three-mile backup of vehicles on the interstate, according to local media. I-5 has been closed until further notice.
Amtrak train 501 was part of a service that launched Monday morning. Trains 504 and 509 have been canceled, Amtrak said.
According to multiple reports, the train was traveling at the speed of over 80 miles per hour when it derailed.
It will take "all day or a couple of days" to clear the area and finish the investigation, Trooper Brooke Bova of Washington State Patrol told reporters. The highway will likely remain shut for the remainder of Monday, she added.
You can share this story on social media: