Huge fire erupts in Virginia following train derailment (PHOTOS, VIDEO)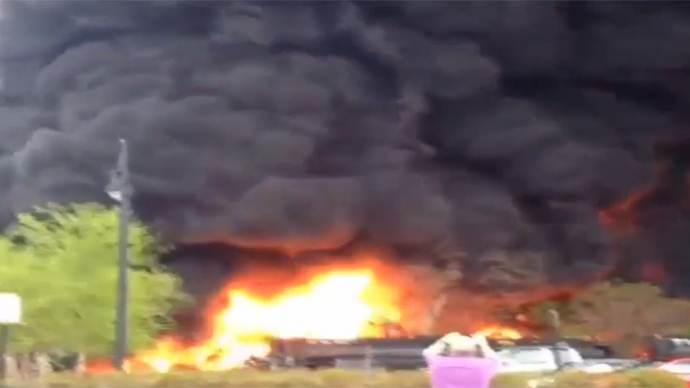 A train derailed in downtown Lynchburg, Virginia Wednesday afternoon, causing a major fire to erupt at the scene of the accident.
Local ABC affiliate WSET News reported that the derailment occurred at around 2 p.m. in the afternoon adjacent to the James River, and eye-witnesses say that before long the area was cloaked in heavy black smoke and flames extending as high as 80-feet into the air.
Lynchburg's News and Advance paper reported that the train did not contain passenger cars, but was rather a tube car train, potentially carrying chemicals, according to city fire marshal Thomas Goode.
Wow. Dramatic video of train derailment in #Lynchburg from Anam Siddiq on Vine. Tune in WSLS at 5pm for more. http://t.co/50pbdHsHf3"

— Katie Love (@KLOVEREPORTER) April 30, 2014
Eyewitness Paul Waggener told the News and Advance that one of the ruptured tanks was labeled "flammable."
Goode was not immediately aware of any injuries, the paper reported, and authorities were evacuating nearby buildings.
"Both motorists and pedestrians are cautioned to avoid the area until further notice," the city said in a statement.
We are asking that everyone avoid the downtown area of Lynchburg, VA until further notice. pic.twitter.com/Wv6pmOykhI

— City of Lynchburg (@lynchburggov) April 30, 2014