Atlanta airport travel chaos as power outage hits world's busiest hub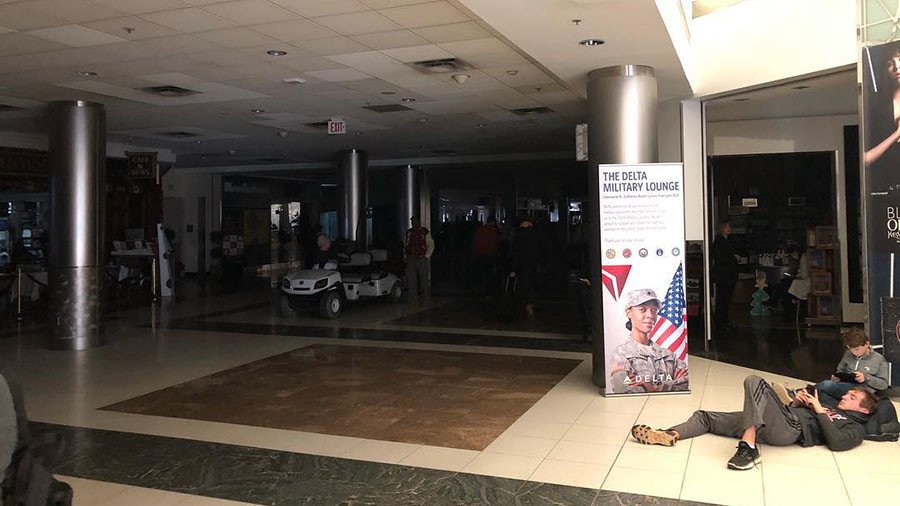 Travellers were left stranded after a power cut grounded all flights at Hartsfield-Jackson International Airport in Atlanta, one of the world's busiest travel hubs.
Staff at the airport worked with the Georgia Power utilities company to restore power after the outage struck at around 1:15pm local time. All outgoing flights were suspended by the Federal Aviation Authority (FAA), while incoming flights that had not already taken off were held at their departure points.
A power outage has impacted several areas in the airport. #ATL officials are working to remedy the situation. Additional updates to come

— Atlanta Airport (@ATLairport) December 17, 2017
The FAA has set a ground stop for flights into #ATL due to the outage. A ground stop means flights to ATL are held at departure airports.

— Atlanta Airport (@ATLairport) December 17, 2017
Georgia Power confirmed that it is investigating the incident, which "may have involved a fire which caused extensive damage in an underground electrical facility." Earlier reports suggested that a construction crew cut a power line, causing the outage, which the airport has not confirmed.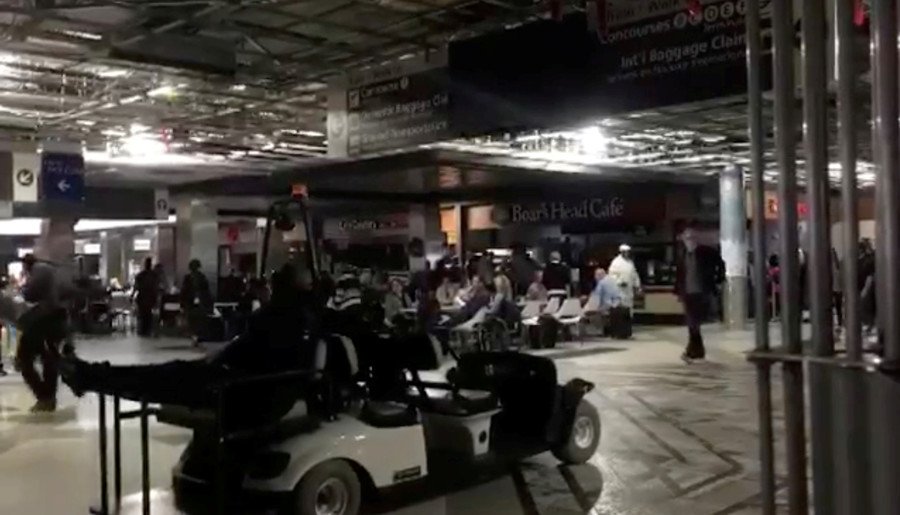 The company expected to fully restore power by midnight local time (5:00 am GMT). At about 7:30 pm local time, power was restored Concourse F, but passengers in other concourses were advised to stay where they were. By about 11:30 pm local time power was back on in the Atrium and Concourses T, A and B. By 12:10 am the airport said power was restored to all of the concourses and meals were being served to stranded passengers.
Passengers who landed at the time of the failure reported being kept in their seats while waiting for the plane to reach their gate.
Some planes moving around us, but pilot says they are just being repositioned because there are about 80 more planes in route already that will need to land and wait for gates. This is just the beginning! Everything will be a nightmare once we deplane #Help

— rgtex (@b_a_leadernow) December 17, 2017
The US Customs and Border Protection enacted its "diversion plan", diverting all international inbound flights to other airports.
The FAA said that the power outage did not affect the radio tower, which can operate normally, but delays were due to the airport equipment inside the terminals not functioning without power.
More than 104 million travelers passed through Hartsfield-Jackson International last year, making it one of the world's busiest for passenger travel, according to Airports Council International.
1/2 The #FAA has put in a ground stop for flights headed to @ATLairport due to a power outage affecting the airport terminals. The FAA Tower can operate normally, however, departures are delayed because airport equipment in the terminals is not working.

— The FAA (@FAANews) December 17, 2017
2/2 A ground stop means that flights headed to Atlanta are held on the ground at their departure airport. We will update this statement when we get new information.

— The FAA (@FAANews) December 17, 2017
Pictures and video footage from the terminals show the extent of the power outage, with much of the terminals in near total darkness.
At least one passenger reported seeing smoke at Concourse D in the Atlanta hub. Speaking to the Atlanta Journal-Constitution, Olivia Dorfman said she was about to board her flight home to Indiana when the power went out. Later she said the area near her gate filled with smoke. She and her fellow passengers were then hurried away by airport staff.
Joshua Shilko, passing through the airport, said a long queue of planes formed on the runway, with some aircraft "sitting there for three hours".
He told RT.com that emergency lights are being used to illuminate passenger waiting areas.
Retailers reportedly closed their outlets and sent their staff home due to the power failure, meaning people were unable to buy water and food. Meanwhile, some passengers were told to prepare to depart their aircraft. Speaking to RT.com, passenger Elena Cristina Lazaro said: "A mechanic just came aboard and let us know we may have to manually exit the plane."
You can share this story on social media: