Knife-wielding man prompts Dutch police to open fire at Amsterdam Airport (VIDEO)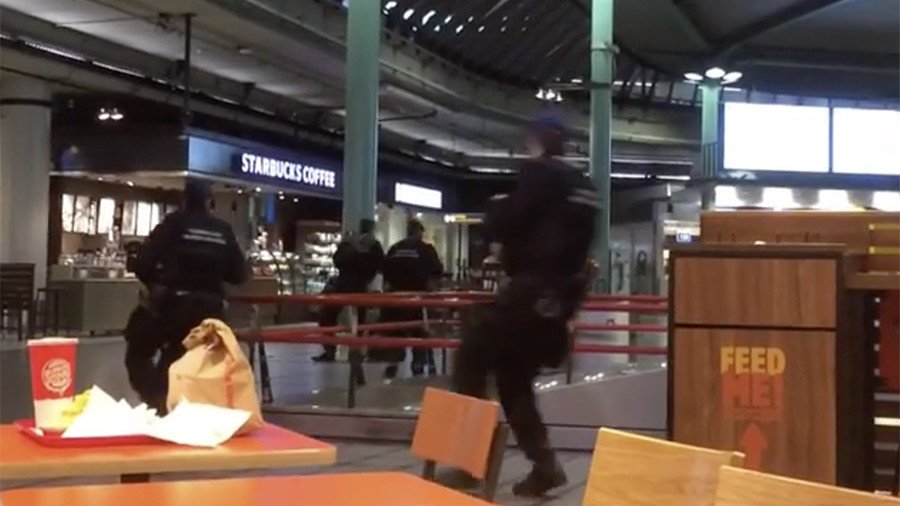 Dutch police opened fire after a man threatened to use a knife at Amsterdam's Schiphol Airport. The suspect was injured in the shooting and taken to hospital; his motives remain unclear.
"A man at Schiphol was shot by the military police after threatening with a knife. Situation safe," the Marechaussee police service said on Twitter. The suspect was detained and removed from the scene by police. There were no reports of other injuries.
Schiphol, just outside Amsterdam, is one of Europe's busiest airports.
"The man threatened with a knife and the military police shot him," police spokesman Stan Verberkt confirmed. "He was injured and has been taken into custody."
People at the airport were terrified when they realized what was going on, an Amsterdam resident called Tobias told the Telegraaf. Although Tobias was not there at the shooting, he saw the suspect being taken away after. You can hear gunshots in several videos posted online showing a deserted area outside a Starbucks cafe in the airport.
The motives and the condition of the suspect remain unknown, but local media report that he had been acting aggressively and broke a window. So far, no evidence has been revealed that the incident is terrorism-related.
Later, police said in a Twitter post that the suspect is a 29-year-old man from The Hague, who has been previously known to police over his involvement in other violent incidents.
The area immediately surrounding the incident was closed to the public, but the airport was functioning normally, Verberkt said.
The airport terminal was also momentarily evacuated, while trains to and from Schiphol were cancelled, local media reported. Passengers have since been allowed inside, while trains are back running again. Air traffic was unaffected.
A video purporting to show the man being carried away on a stretcher has emerged on social media.
While the Netherlands has avoided the kind of mass-casualty terrorist incidents which have plagued other parts of Europe in recent years, there have been smaller attacks such as the 2004 assassination of filmmaker Theo Van Gogh by an Islamist extremist for his short film Submission, which was critical of violence against women in some Muslim countries.
READ MORE: Man with Palestinian flag storms Israeli restaurant in Amsterdam (VIDEO)
In 2016, after a bombing at Brussels airport in neighboring Belgium it was discovered that terrorists also planned to target Schiphol. In response to the growing terror threat, airport chief Jos Nijhuis asked for 500 more police officers to patrol the airport in January, in addition to the 1,800 stationed there already.
You can share this story on social media: