Haley slammed for attacking Iran's 'lawless behavior' while ignoring plight of Yemeni civilians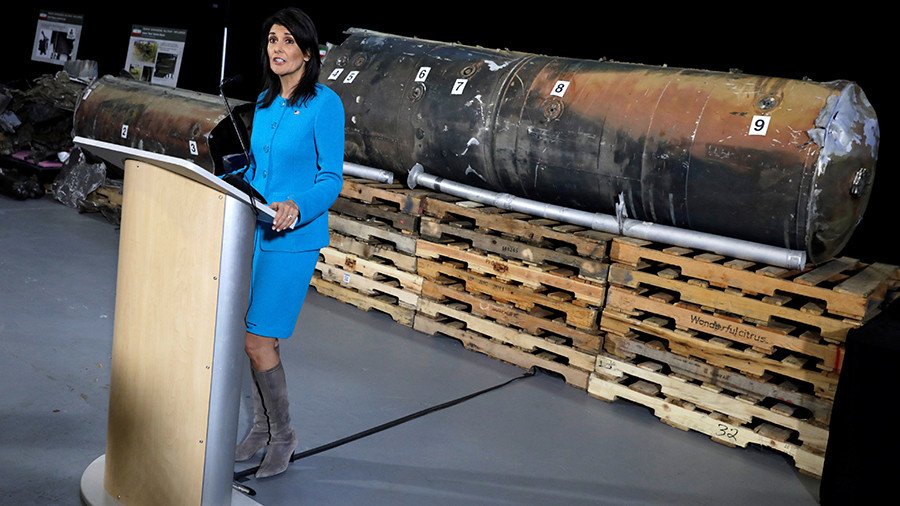 The US envoy to the UN was slammed on social media over a speech blaming Iran for a missile launched at a Saudi airport last month. Some accuse Nikki Haley of lying, while others say she's ignoring Yemeni civilians' struggles.
Delivering a speech at the Joint Base Anacostia-Bolling military installation in Washington DC, Haley stood in front of the exact missile that was intercepted by Saudi Arabia on November 4. "As you know, we do not usually declassify this type of military equipment recovered from these attacks. But today, we are taking an extraordinary step of presenting it here, in an open setting," she said.
READ MORE: US rep to UN shows 'evidence' of Iran's missile in Yemen, promises coalition against Tehran
Haley blamed the missile attack on Iran, alleging that it supplied the weapon to Yemeni Houthi rebels. "The Iranian regime cannot be allowed to engage in its lawless behavior any longer... the fight against Iranian aggression is the world's fight," the UN envoy stated, stressing that Riyadh's civilian airport was the intended target of the missile attack.
The Iranian government has yet to respond to Haley's Thursday speech.
Saudi Arabia has also accused Iran of being behind the missile attack, which was successfully intercepted. Riyadh has also called for sanctions to be placed on Tehran over the attack.
However, not everyone is so convinced that Haley's words are entirely true. Social media backlash has rolled in at full speed, with podcaster John Aravosis saying there is "zero reason to believe anything Nikki Haley is saying right now about Iran. She represents a pathological liar..."
Meanwhile, the leader of the National Iranian American Council, Trita Parsi, accused Haley of "laying the groundwork for a US-Iran war on behalf of Saudi Arabia," and questioned why Washington is treating Saudi interests as American interests.
Others took issue with Haley for ignoring the fact that the Saudi-led coalition - which is supported by the US - continues to bomb civilians who are experiencing a humanitarian crisis.
One person attacked Haley's "stupid thoughts," accusing the US of being engaged in "lawless behavior for many decades."
Some compared Haley's speech to one made to the UN by former US national security adviser Colin Powell in 2003, in which he justified the George W. Bush administration's rationale for the war in Iraq, citing the country's alleged weapons program. Last year, Powell referred to that speech as a "blot" on his record, as no weapons of mass destruction were ever found in Iraq.
The Saudi-led coalition launched an aerial campaign against Shiite Houthi rebels in Yemen in March 2015, and later began a ground operation. The coalition is allied to Abd Rabbu Mansour Hadi, who fled to Saudi Arabia when the Houthis took power in Yemen. At least 5,000 civilians have died as a result of the country's civil war, according to UN figures. More than 8,500 people have been injured in the fighting.
Meanwhile, Washington continues to support its ally Saudi Arabia, and has continuously cited threats posed by Riyadh's arch rival Tehran. In May, US President Donald Trump struck an arms deal with Saudi Arabia, the value of which totaled $350 billion. The agreement was aimed at bolstering security "in the face of Iranian threats."
Tensions between the US and Iran were exacerbated after Trump refused to certify Tehran's compliance with the nuclear deal in October. Trump has frequently slammed what he calls the "worst deal ever negotiated," which was agreed between Iran and six world powers under the Barack Obama administration. Earlier this month, Iran's foreign minister told RT that Iran has "options" if the US pulls out of the deal, and that he doesn't believe those options "will be very pleasant for the United States."
You can share this story on social media: