US rep to UN shows 'evidence' of Iran's missile in Yemen, promises coalition against Tehran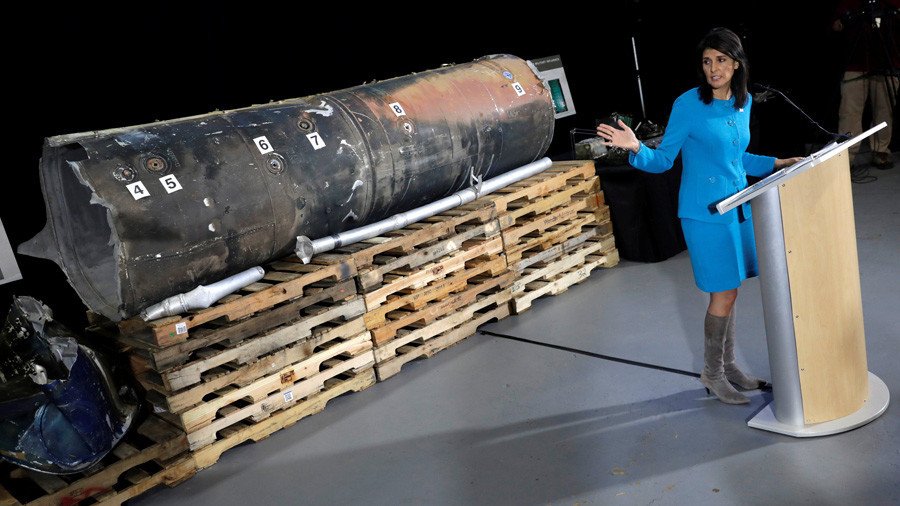 US ambassador to the UN Nikki Haley has described Iran as a "global threat" in a news conference outlining evidence of the nation's "destabilizing behavior" in the Middle East.
Under the current administration the US attitude towards Iran has hardened. Earlier this year, President Donald Trump claimed that a 2015 financial deal intended to limit Iran's nuclear program has helped the nation fund terrorism.
Speaking about the new strategy on Iran, ambassador Nikki Haley indicated US agencies and their international partners are currently scrutinizing Iran's ballistic missiles program, arms exports and "its support for terrorists, proxy fighters and dictators."
Under the 2015 UN resolution on Iran's nuclear program, the supply, sale or transfer of ballistic missiles from the country must be approved by the UN security council on a case-by-case basis.
Standing in front of a partially incinerated missile shell purported to have been fired into Saudi Arabia from Yemen, Haley told reporters at a Washington military base that illegal Iranian weapons are spreading throughout the Middle East.
"Our new strategy was prompted by the undeniable fact that the Iranian regime's behavior is growing worse. The nuclear deal has done nothing to moderate the regime's conduct in other areas."
Haley said the US will attempt to build a international coalition to "push back" against Iran.
She said missiles from Iran have been found in war zones across the Middle East.
"It's hard to find a conflict or a terrorist group in the Middle East that does not have Iran's fingerprints all over it."
The Iran government has stated that the country's weapons program is for defense purposes. The US envoy presented remains of a missile found in Saudi Arabia as proof of Iranian enabled attacks against US allies in the Middle East. Haley said the missile's intended target was a civilian airport in Riyadh.
Weapon parts from a "kamikaze drone" and a boat fitted with a warhead were also mentioned as evidence of Iran backed aggression in the region. A date or location for when this weaponry was found was not announced by Haley.
Iran's Foreign Minister compares Nikki Haley's speech today to Collin Powell's anthrax vial used to justify the Iraq War at the UN https://t.co/BXW4wGtJ0E

— Josh Billinson (@jbillinson) December 14, 2017
The Government of Islamic Republic of Iran has since released a statement describing the evidence as "fabricated," report Reuters.
Saudi Arabia has welcomed the US stance and called for "immediate measures" to ensure the 2015 UN resolution is adhered to.
Claims that Iran has misused its weaponry comes as a new study reveals arms manufactured in Europe, China, and Russia inadvertently fueled Islamic State (IS, formerly ISIS/ISIL) arsenals between 2014-2017.
READ MORE: Weapons supplied to Syrian opposition boosted 'quantity & quality' of ISIS arsenal
According to the Conflict Armament Research report, the US and Saudi Arabia were the biggest culprits in transferring such arms to regions where they subsequently fell into the hands of ISIS-linked groups.
"The United States and Saudi Arabia supplied most of this material without authorisation, apparently to Syrian opposition forces," the report states.
You can share this story on social media: