House committee grills FBI director: Did Trump–Russia dossier back a FISA warrant?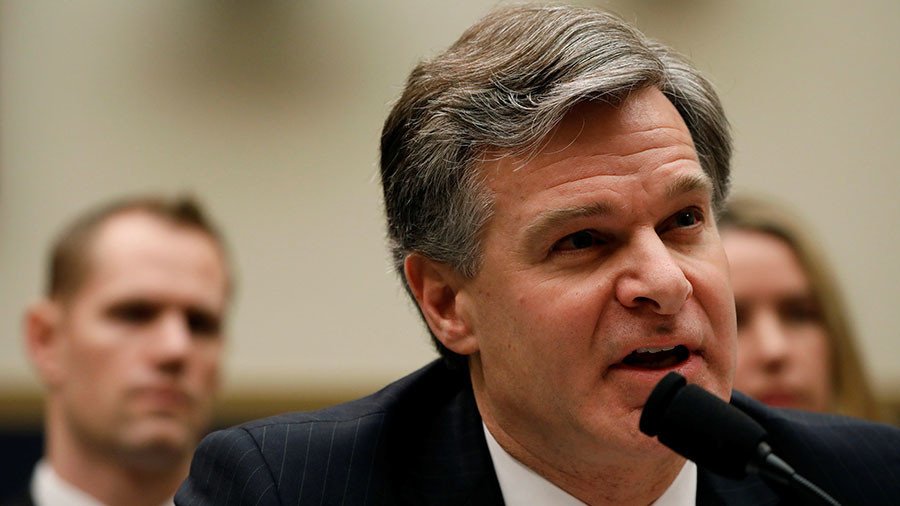 FBI Director Christopher Wray has declined to tell the House Judiciary Committee if he was prohibited from sharing documents that would show whether the notorious Steele dossier was used to obtain a FISA warrant to spy on the Trump campaign.
Wray was appearing before the the House Judiciary Committee Thursday, after President Donald Trump's recent tweet that the FBI's reputation is "in tatters."
Rep. Jim Jordan (R-Ohio) asked Wray about the FBI's possible use of the Trump–Russia dossier, also known as the Steele dossier, named after its author ex-British spy Christopher Steele. It was a document paid for by the Democratic National Committee (DNC) and Hillary Clinton campaign to be used as opposition research against Trump in 2016. It contained allegations that Trump colluded with the Russian government in the 2016 US presidential election and engaged in lewd acts. The veracity of the salacious claims in the dossier were further undermined by the revelation that Steele paid Russian sources for information pointing to collusion.
Jordan also referred to Peter Strzok, an FBI agent and former deputy head of counterintelligence who led the investigation into Clinton's use of private emails, and reportedly recommended that former FBI director James Comey describe Clinton's actions as "extremely careless," rather than "grossly negligent" – a term that implies felony charges under US law. It was revealed this week that Strzok was dismissed this summer from Special Counsel Robert Mueller's probe into alleged collaboration between Trump and Russia for sending "anti-Trump text messages."
Jordan alleged that Strzok used the Steele dossier to obtain a FISA warrant for spying on members of the Trump team.
"My hunch is it has something to do with the dossier," Jordan said. "Did Peter Strzok help produce and present the application to the FISA court to secure a warrant to spy on Americans associated with the Trump campaign?"
Wray refused to answer, saying, "I'm not prepared to discuss anything about a FISA process in this setting."
Jordan wouldn't let Wary off the hook. "We're not talking about what happened in the court, we're talking about what the FBI took to the court," he said. "The application. Was Peter Strzok involved in taking that to the court?"
Wray remained obstinate. "I'm not going to discuss anything to do with the FISA court applications," he responded.
Jordan then made his case that the FISA warrant was obtained based on false information contained in the Steele dossier, calling it "fake news National Enquirer garbage."
"I think Peter Strzok, head of counterintelligence at the FBI... Peter Strzok, the guy who ran the FBI's Clinton investigation, did all the interviews... Peter Strzok, the guy who was running the Russia investigation at the FBI... Peter Strzok, Mr. Super Agent at the FBI, I think he is the guy that took the application to the FISA court.
"And if this happened, if you have the FBI working with the Democrats' campaign, to take opposition research, dress it all up and turning it into an intelligence document to take it to a FISA court so they can spy on another campaign, if that happened, that is as wrong as it gets...
"You could clear it all up, we sent you a letter two days ago. Just release the application, tell us what was in it. Tell us if I'm wrong. But I don't think I am. I think that is exactly what happened, and people who did that need to be held accountable."
Wray only said his agency "will not hesitate to hold people accountable after there has been an appropriate investigation," and "as to the access to the dossier, that's something that is subject of ongoing discussion between my staff and the various intelligence committees."
When asked if there is "anything prohibiting you from showing this committee what was presented to the FISA court?" Wray told Jordan, "I do not believe that I can legally and appropriately share a FISA court submission with this committee."
Chairman of the committee, Rep. Bob Goodlatte (R-Virginia), then reminded Wray that his panel "has primary jurisdiction over the Foreign Intelligence Security Court," and that classified FISA documents could be shown to the committee in a classified setting.
Jordan, however, did not let up on his request that the FBI simply share its own documents with the committee.
"There is nothing prohibiting him from doing that," Jordan said.
Chairman Goodlatte answered, "I don't think there is either," but Wray had no further response.
You can share this story on social media: