FEC complaint accuses Clinton camp, DNC of hiding Trump-Russia dossier payments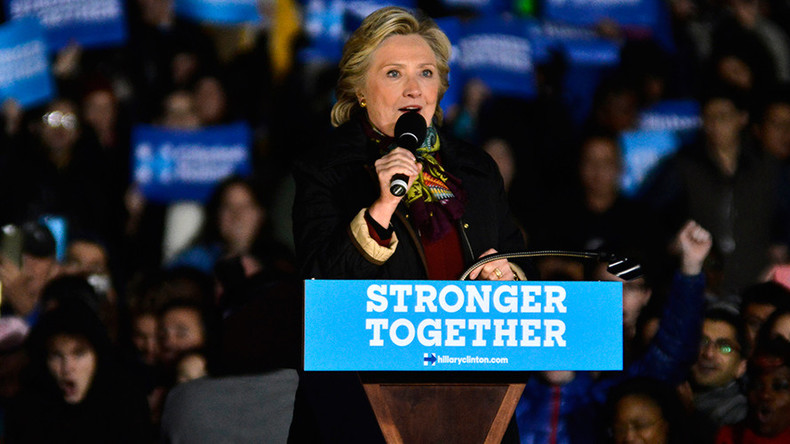 The Federal Election Commission is being asked to investigate "misleading" payment reports filed by former Secretary of State Hillary Clinton's 2016 campaign and the DNC, in relation to the infamous Trump-Russia dossier.
Hillary for America and the Democratic National Committee violated campaign finance law, according to a Campaign Legal Center (CLC) complaint sent to the FEC Wednesday. The non-partisan watchdog group alleges that both the Clinton presidential campaign and the DNC failed to disclose the true purpose and recipient of payments for the salacious dossier alleging collusion between then-candidate Donald Trump and Russia.
"By failing to file accurate reports, the DNC and Hillary for America undermined the vital public information role that reporting is intended to serve," the complaint reads.
The move follows a Washington Post report Tuesday which alleges that Marc Elias, a lawyer representing Hillary for America and the DNC, retained Fusion GPS, a Washington, DC opposition research firm in April 2016 to conduct research into President Donald Trump's alleged coordination with Russia during the 2016 presidential campaign. This funding continued until October, days before the election.
Clinton herself reportedly denies any previous knowledge of the dossier before its January 2017 publication, according to the New York Times, which spoke with two Clinton associates. Those sources told the NYT that Clinton was disappointed the dossier and the FBI investigation into alleged Russia ties with the Trump campaign weren't made public before Election Day.
"Questions about who paid for this dossier are precisely the information that @FEC reports are supposed to provide." —@brendan_fischer

— CampaignLegalCenter (@CampaignLegal) October 25, 2017
Both the Clinton campaign and the DNC have previously denied knowledge of the research that went into creating the dossier.
Clinton's campaign reportedly routed 37 payments to Fusion GBP through the law firm Perkins Coie during the 2016 election. Those payments, totaling $5.63 million, were described as "legal services," rather than conducting opposition research on Trump.
The complaint further states that the DNC reported 345 payments, totaling $6.72 million for "Legal and Compliance Consulting," "Administrative Fees," "Travel," and "Data Services Subscription."
"By filing misleading reports, the DNC and Clinton campaign undermined the vital public information role of campaign disclosures," Adav Noti, the senior director of trial litigation and strategy at CLC, said in a statement. "The FEC must investigate this apparent violation and take appropriate action."
The CLC said the Clinton campaign hid these payments "from public scrutiny, contrary to the requirements of federal law."
The Federal Election Campaign Act requires the treasurer of every political committee to "file reports of receipts and disbursements" with the FEC, including the name and address of each person "to whom an expenditure in an aggregate amount or value in excess of $200" along with the "date, amount, and purpose" of the expenditure.