New York lawyers & activists seek to ban immigration agents from courts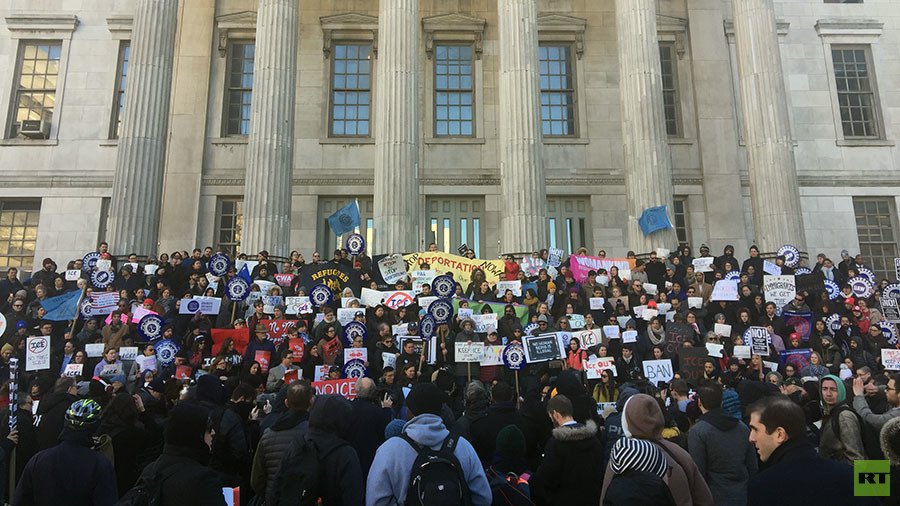 Hundreds of lawyers and supporters rallied in Brooklyn, New York calling on immigration agents to be prohibited from entering state courthouses. The demand comes after ICE arrested a defendant waiting for his hearing at the Brooklyn court house.
"The people we represent are snatched while attempting to access due process that our criminal system promises," Amanda Jack from Brooklyn Defenders said at the rally outside the state court on Thursday. "People are taken from their families, their jobs, their lives in New York City and as public defenders... we are outraged. and we demand action."
"ICE understands they are terrorizing the courts and they are paralyzing the court system," she added, referring to Immigration and Customs Enforcement.
The Association of Legal Aid Attorneys (ALAA) and over 80 groups like Brooklyn Defenders and Bronx Defenders are calling on the Office of Court Administration and Chief Judge Janet DiFiore to "immediately implement a policy to prohibit" ICE from entering courts and to end coordination with the federal agency.
The rally comes a week after lawyers walked out court to protest the arrest of Legal Aid lawyer's client Genaro Rojas-Hernandez during a regular court appearance.
Rojas-Hernandez was in court to see his charges of domestic violence dismissed.
"What is happening in Brooklyn is happening everywhere in New York. Up in the Bronx where I work we are not stranger to this horrible crisis," Luis Mancheno from the Bronx Defenders told the crowd.
"Mothers are afraid of fighting for the custody of their children, victims of violence are not coming forward to report their aggressors, and before being accused of crimes they cannot exercise their Constitutional rights and defend themselves in court," he added.
Mancheno said there was a 900 percent increase of arrests in court in 2017 as "ICE agents hide in the court rooms, lurk in the halls of justice and snatch immigrants from their right to have their day in court."
"This is not only a problem for immigrants this is crisis for everyone in New York, when people don't feel safe in the judicial system," he said.
In its first year in office, the Trump administration set in motion sweeping changes in how the federal government dealt with those living in the US illegally, deporting over 225,000 people in 2017. It is estimated there are 11 million immigrants living the US without legal status.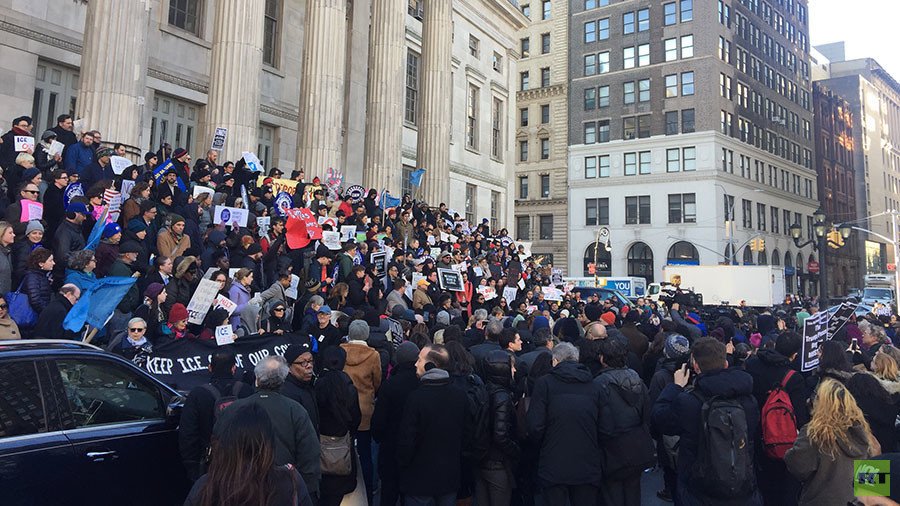 RT reached out to New York Governor Andrew Cuomo's office and Judge DiFiore's office for comment but has not received a response.
A spokesperson for New York Courts responded to the request and stated it remains "committed to the safety and security of all New Yorkers who use our courthouses throughout the State."
"Since early February we have been closely monitoring and tracking the presence of ICE agents in courthouses," Lucian Chalfen, spokesperson for New York Courts in a released statement. "Court Officers are not complicit, do not coordinate with, facilitate or impede actions by outside law enforcement, including ICE agents, when they effect an arrest inside New York State Courthouses."
"We have written to and met with, on several occasions, federal officials on a local and national level to convey our feelings and request that they treat courthouses as sensitive locations and have raised directly with ICE our serious concerns about ICE activity at certain locations, such as Family Court and Human Trafficking Court."
You can share this story on social media: