Lawyers walk out of New York court after ICE agents arrest client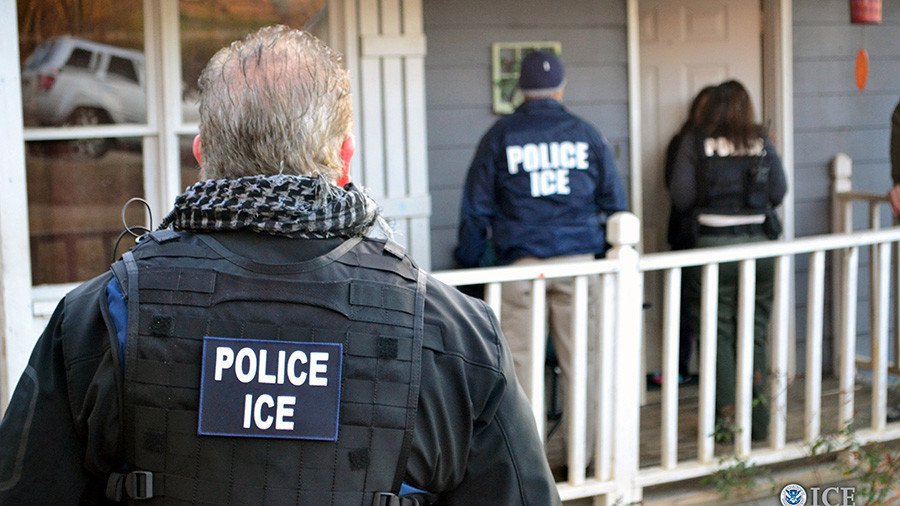 Dozens of defense attorneys staged an impromptu protest outside a Brooklyn, New York courthouse after a Legal Aid Society client was arrested by federal authorities on immigration charges.  
Chanting "Stay out, ICE!" and "Shame on you!" attorneys with the Legal Aid Society and Brooklyn Defender Services protested outside the Brooklyn Criminal Court on Tuesday after Genaro Rojas-Hernandez was detained by Immigration and Customs Enforcement (ICE) officers.
"They arrested him and put him into a restricted area. The courtroom' s sergeant pushed me and the court officers kept me away," his attorney, Rebecca Kavanagh, told the New York Daily News.
Rojas-Hernandez was in court to see his charges of domestic violence dismissed.
A statement from the Office of Court Administration said several legal aid attorneys escalated the situation by "purposely interfering in an arrest situation."
"Only for the professionalism and restraint of the court officers involved, there were no injuries and the attorneys were not arrested for obstructing governmental administration," the court said.
The protesting attorneys marched to the Brooklyn district attorney's office, demanding that the court and and Chief Judge Janet DiFiore implement a "Sanctuary Court" policy, which would prevent New York Court staff from collaborating with ICE officers or allowing them to enter the court property.
District Attorney Eric Gonzalez was also unhappy with the ICE intervention.
"Today's ICE arrest during a hearing on a serious domestic violence case denied due process for both victim and defendant," Gonzalez said in a statement. "Such actions deter victims from reporting abuse and threaten public safety. I join our public defenders in calling on ICE to reconsider their misguided policy and stop conducting enforcement raids in courthouses."
In its first year in office, the Trump administration set in motion sweeping changes in how the federal government dealt with those living in the US illegally. It is estimated there are 11 million immigrants living the US without legal status.
You can share this story on social media: