'Step aside': Democratic senators call on Franken to resign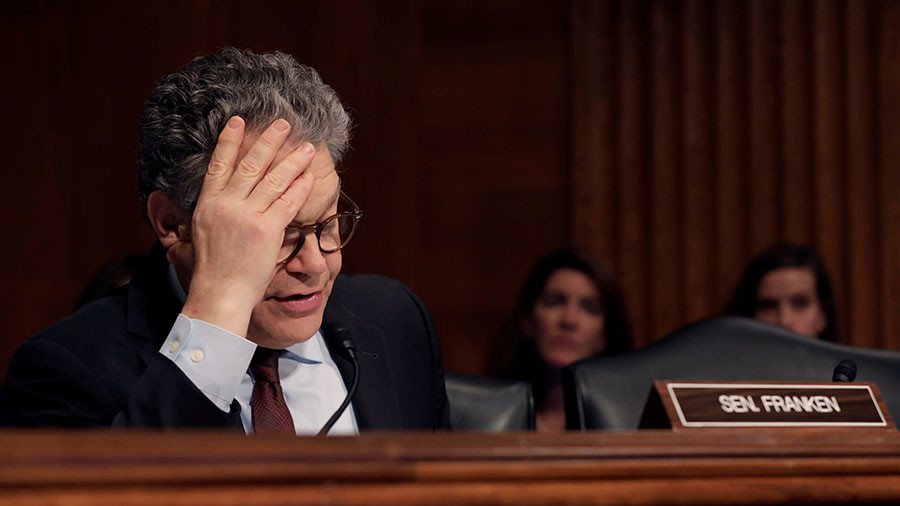 Over a dozen Senate Democrats have called on their colleague Al Franken of Minnesota to resign after a sixth woman accused him of sexual misconduct. Calls for his resignation were first made by eight female Democratic senators.
"I have spent a lot of time reflecting on Senator Franken's behavior. Enough is enough," declared Senator Kirsten Gillibrand (D-New York) in a Facebook post Wednesday.
"The women who have come forward are brave and I believe them," she added. "While it's true that his behavior is not the same as the criminal conduct alleged against Roy Moore, or Harvey Weinstein, or President Trump, it is still unquestionably wrong, and should not be tolerated by those of us who are privileged to work in public service."
"As elected officials, we should be held to the highest standards – not the lowest," Gillibrand wrote in her post that garnered over 2,300 likes, was shared over 500 times, and received over 1,000 comments as of noon Wednesday.
"The allegations against Senator Franken describe behavior that cannot be tolerated. While he's entitled to an Ethics Committee hearing, I believe he should step aside to let someone else serve," she said.
Gillibrand was joined by Senators Tammy Baldwin (D-Wisconsin), Mazie Hirono (D-Hawaii), Claire McCaskill (D-Missouri), Debbie Stabenow (D-Michigan), Patty Murray (D-Washington), Kamala Harris (D-California) and Maggie Hassan (D-New Hampshire), who issued statements in a coordinated effort that is likely to jeopardize Franken's political future.
Joining the female lawmakers were three male senators, Bob Casey (D-Pennsylvania), Joe Donnelly (D-Indiana), and Sherrod Brown (D-Ohio). As more Senators joined the chorus, chairman of the Democratic National Committee, Tom Perez, also called for Franken's resignation Wednesday.
Charges against Franken first emerged on November 16, when broadcaster Leeann Tweeden wrote the future senator forcibly kissed her without consent as part of a rehearsal for a skit during a USO tour in 2006. On November 20, Lindsay Menz accused Franken of touching her buttocks while they posed for a photo. Four more women accused the senator of similar misconduct. On November 30, the Senate Ethics Committee announced that it was investigation allegations against Franken.
The Minnesota Democrat has apologized for his behavior but that does not appear to be enough for his colleagues. He said he will make an announcement Thursday, which is widely expected to be about his resignation.
Congressman John Conyers Jr. (D-Michigan) resigned Tuesday following weeks of sexual misconduct denials, after he was outed to have settled a wrongful termination claim by a staffer in 2015.