Broadcaster accuses Senator Al Franken of sexual harassment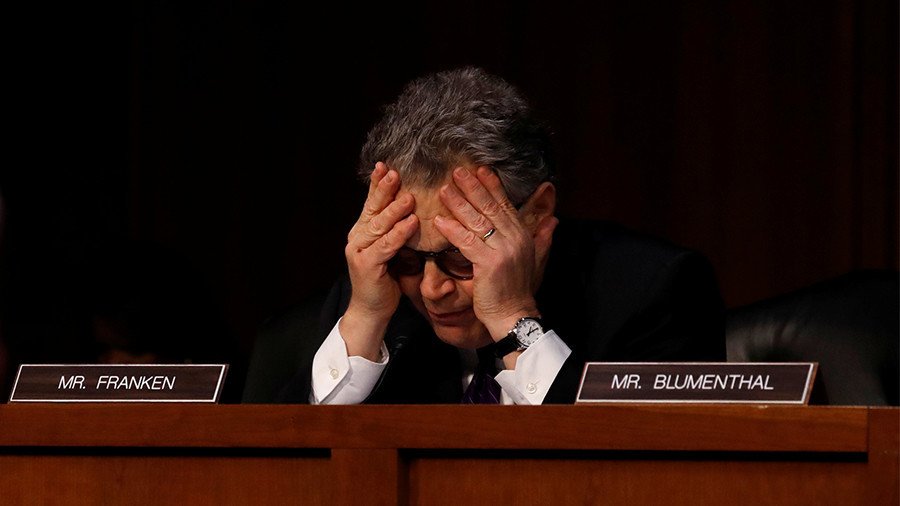 A Los Angeles radio host accused Senator Al Franken, a Democratic senator from Minnesota, of kissing and groping her during a 2006 USO tour in the Middle East. She posted a photo on her Twitter account to support her claim.
"He groped me, without my consent, while I was asleep," broadcaster Leeann Tweeden wrote on Thursday. Her account includes a photo of Franken posing for the camera as he reaches for Tweeden's breasts while she appears to be asleep. She also accused Franken of kissing her against her will.
The incidents took place in 2006, when Tweeden and Franken were comedians performing at US military bases overseas. The tour was organized by USO (United Service Organizations, Inc.) a nonprofit that partners with the Pentagon to bring entertainment to American troops abroad.
Franken was elected to the Senate in 2008, defeating Republican incumbent Norm Coleman by a margin of 312 votes.
Shortly after Tweeden's account was published, Franken issued an apology. "I certainly don't remember the rehearsal for the skit in the same way, but I send my sincerest apologies to Leeann. As to the photo, it was clearly intended to be funny but wasn't. I shouldn't have done it," he said.
Tweeden accompanied her accusations with a hashtag #MeToo, launched last month on Twitter by actress Alyssa Milano to support her colleague Rose McGowan's complaint against movie mogul Harvey Weinstein.
On Thursday, Senate Majority Leader Mitch McConnell (R-Kentucky) called on the Senate Ethics Committee to review the allegations against Franken.
"As with all credible allegations of sexual harassment or assault, I believe the Ethics Committee should review the matter. I hope the Democratic Leader will join me on this. Regardless of party, harassment and assault are completely unacceptable — in the workplace or anywhere else," McConnell said in a statement.
McConnell's push for to review Tweeden's allegations against Franken comes just days after the Senate leader warned Alabama Senate candidate Roy Moore that he would face an ethics probe if he wins the upcoming special election, over allegations of sexual misconduct toward teenage girls. Moore has rejected the allegations as political attacks by his opponents, both Democrats and the Republican establishment led by McConnell.
Tweeden, 44, has worked as a TV host and broadcast journalist, and appeared on the covers of the popular magazines Playboy, Maxim and FHM. At the time of the incident she was a correspondent for Fox Sports Net's Best Damn Sports Show Period. Tweeden is now a broadcaster for KABC radio in Los Angeles and anchors the McIntyre in the Morning show.
Franken and Tweeden were backstage rehearsing their performance when he forcibly kissed her, she wrote. "He said to me, 'We need to rehearse the kiss.' I laughed and ignored him. Then he said it again. I said something like, 'Relax, Al, this isn't [Saturday Night Live]...we don't need to rehearse the kiss.'"
"He came at me, put his hand on the back of my head, mashed his lips against mine and aggressively stuck his tongue in my mouth," Tweeden wrote.
At a press conference on Thursday afternoon, Tweeden explained that she didn't report the incidents because she didn't want to be the troublemaker.
"I didn't socialize with him, I didn't talk to him for the rest of the tour," Tweeden told reporters. "I made sure I was never alone with him."
Tweeden credited Congresswoman Jackie Speier's (D-California) account of being assaulted when she was a young Congressional aide as inspiration to come forward.
"She described how a powerful man in the office where she worked 'held her face, kissed her and stuck his tongue in her mouth," Tweeden wrote. "At that moment, I thought to myself, Al Franken did that exact same thing to me."
Tweeden said she accepted Franken's apology, but added he could have apologized at any point.
"I wasn't holding my breath. I would have been long dead by now," she told reporters at the press conference. "2017 is not 2006. It's just a different time."
You can share this story on social media: