Planes damaged after airliners clip wings on JFK runway (PHOTOS, VIDEO)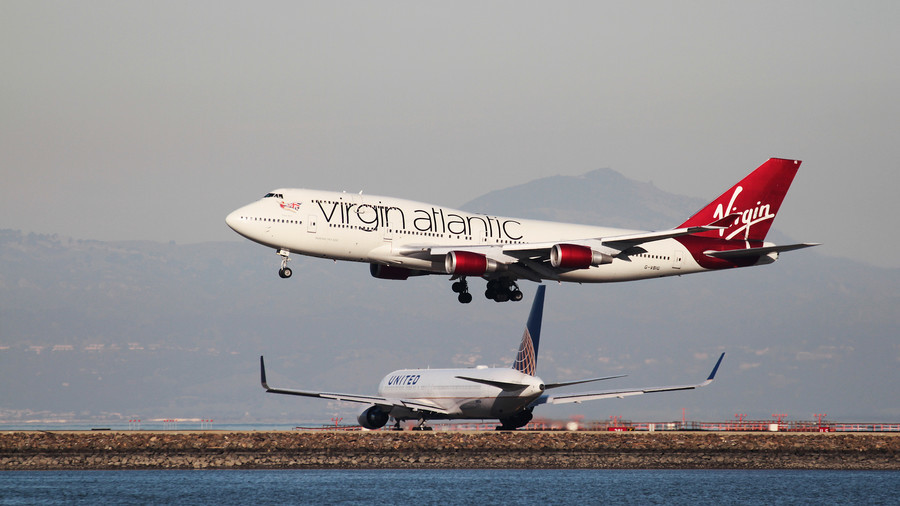 Passing EgyptAir and Virgin Atlantic planes packed with passengers clipped each other's wings while passing on the runway of New York's JFK Airport, causing severe damage to the latter aircraft.
The Virgin Atlantic Airlines Airbus A333 flight to London had pulled off to the right of the runway at JFK on Monday night to deal with a technical issue. A mere two minutes later, a passing Egypt Air Boeing 777 flight bound for Cairo clipped the Virgin plane's left wing.
Afterward, the Egypt Air plane returned to the terminal unassisted, while the Virgin flight needed to be towed. There were no reports of injuries on board either flight.
READ MORE: 50k+ passengers affected by Bali airport closure over volcanic ash in airspace (PHOTOS, VIDEOS)
The FAA has launched an investigation into who was at fault for the collision. Air control recordings, published by ABC NY, show how the accident unrolled from the Virgin Atlantic plane's point of view.
VS4: "Uh Virgin 4-Charlie, we've got a technical issue at the moment...we're going to have to do some diagnosing."

Tower: "Virgin 4-Charlie-heavy, alright, disregard all that, pull off to the right, all the way to the right as far as you can on the run-up pad."

VS4: "Ground Virgin, uh 4-Charlie I think he just clipped our wing."

VS4: "We can confirm he has hit the left hand wing for the Virgin."

Tower: "All right hold position Virgin, 4-Charlie."
A representative for Virgin wrote in a Twitter response to passengers: "Our VS4 flight sustained minor damage whilst taxiing at JFK earlier today. The safety of customers and crew is our priority and the flight has been delayed overnight to enable a full check to take place. We'd like to apologise to customers for the inconvenience caused by this."
You can share this story on social media: