50k+ passengers affected by Bali airport closure over volcanic ash in airspace (PHOTOS, VIDEOS)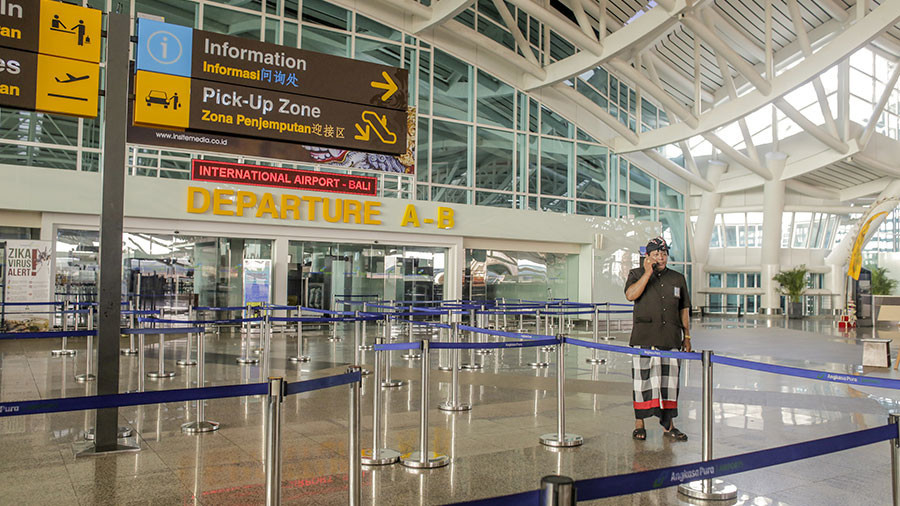 Thousands of tourists have been stranded in Bali after authorities closed off the international airport on the paradise island fearing that volcanic ash spewed by the Mount Agung may jeopardize the safety of aircraft and travelers.
As many as 100,000 people should evacuate expanded danger zone around Bali volcano, the Indonesian disaster agency said on Monday.
An estimated 59,000 passengers were affected after Denpasar Ngurah Rai International Airport canceled 445 flights (196 international and 249 domestic) on early Monday morning after the alert level for Mount Agung volcano was raised to the highest level, following Saturday's eruption and the subsequent activity at the crater.
Airport authorities said that the decision to close the air hub was made after tests showed ash had reached its airspace. Volcanic ash is dangerous for the aviation as it can damage aircraft engines. The airport managed to divert seven flights that were about to land to airports in Jakarta, Surabaya and Singapore just before the full closure was announced at 6 a.m. local time.
READ MORE: Red alert shuts down Bali airport as big Agung volcano eruption deemed 'imminent' (VIDEOS)
"We got reports from pilots that volcanic ash has reached the area above the airport. We did an observation and found out that is true. So we decided to close the airport operation," the head of the airport authority for Bali and East Nusa Tengarra area, was quoted as saying by news.com.au
Flight information boards showed cancelations as tourists arrived in the morning hoping to depart the island, which authorities now believe faces an "imminent" bigger eruption. Some passengers learned of the cancellations as they were ready to board the aircraft. Confusion and chaos began to spread at the airport. While the gateway to the island is to remain closed until at least Tuesday, authorities said they would reevaluate the air quality every six hours. Passengers hope that a window of opportunity will present itself for them to leave the island.
First cancellations of flights in Bali started happened on Saturday evening after Mount Agung volcano erupted for the second time in less than a week. Some 57 international flights and 39 domestic flights were canceled from Saturday until Sunday at 11:59 p.m. local time.
Denpasar Ngurah Rai is Indonesia's third busiest airport. In the first half year of 2017, the airport served 10,156,686 passengers.