Report about Rep. Conyers puts Congress under sexual harassment microscope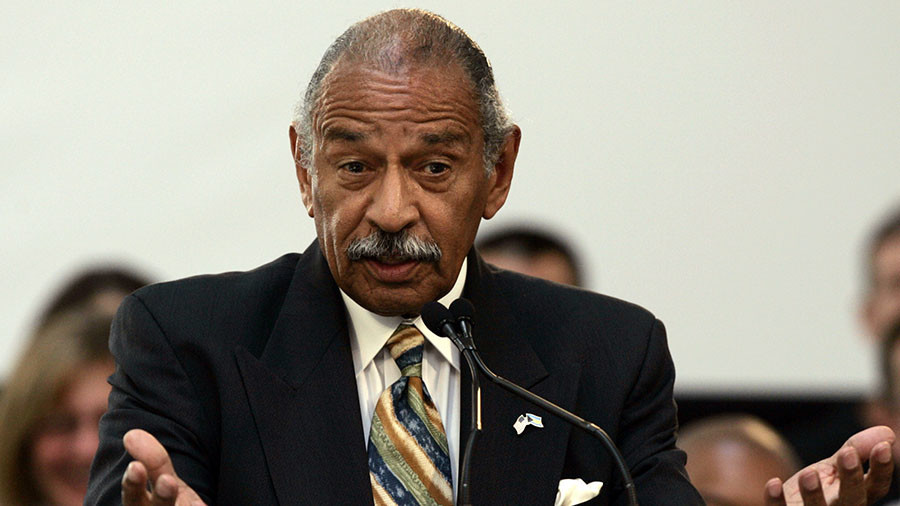 The avalanche of sexual harassment and abuse claims has reached the US Congress, with the latest exposé pointing to a senior Democrat in the House. Several female lawmakers are also speaking out about their sordid experiences on Capitol Hill.
On Monday evening, BuzzFeed published a report that Representative John Conyers Jr (D-Michigan) settled a wrongful dismissal complaint in 2015; with a former employee who said she was fired for refusing his sexual advances and "blackballed" into accepting a settlement of $27,000.
Reached at his Detroit home, Conyers told AP that he had not settled any sexual harassment complaints with any staff members, and that he knows nothing about any claims of inappropriate touching. Commenting on sexual harassment claims against politicians and celebrities, he said he has "been looking at these things with amazement."
An icon of the civil rights movement, Conyers was first elected to Congress in 1964. He is currently the ranking Democrat on the House Judiciary Committee. His case is just one of 264 settlements amounting to $17 million paid out by Congress's Office of Compliance for various violations, including sexual harassment, over the past 20 years.
President Donald Trump told reporters Tuesday that he favors releasing the names of those implicated in the settlements to the public.
Right-wing activist Mike Cernovich wrote that he tipped off BuzzFeed News to the Conyers case, in order to force the Congressional leadership and the Democrats to respond to the allegations, rather than "cover up these horrific sex crimes by powerful members of Congress" by attacking him personally.
Speaker of the House Paul Ryan (R-Wisconsin) called the report "extremely troubling," without bringing up Conyers by name.
"Last month, I directed the Committee on House Administration to conduct a full review of all policies and procedures related to workplace harassment and discrimination. A Committee hearing last week examining this issue led to a new policy of mandatory training for all members and staff. Additional reforms to the system are under consideration as the committee continues its review," Ryan said.
Rep. Zoe Lofgren (D-California) called for an investigation into the validity of the report.
"The reports about Congressman Conyers are as serious as they get," Lofgren said in a statement. "The Committee on Ethics should take up this matter immediately with a goal of promptly assessing the validity of the news account. This reported behavior cannot be tolerated in the House of Representatives or anywhere else."
Conyers is among the most senior public officials to be implicated in the wave of sex scandals that have continued to break since actor Rose McGowan said she was raped by Hollywood mogul Harvey Weinstein.
Congresswoman Jackie Speier (D-California) has called sexual harassment on Capitol Hill an "occupational hazard." Last month, Speier shared her own story about being forcibly kissed by a Congressional chief of staff while she was working as a staffer.
On Monday, Congresswoman Diana DeGette (D-Colorado) accused her former colleague Bob Filner (D-California) of sexually assaulting her in an elevator. Filner served in the House between 1993 and 2012. He then became mayor of San Diego, but resigned in August 2013 after 20 women accused him of groping, inappropriate touching and forcible kissing.
Earlier this month, the Washington Post published accusations against Roy Moore, the Republican candidate in the upcoming special election for a US Senate seat in Alabama. The Post has endorsed Moore's opponent, the Democrat Doug Jones. Moore has rejected all allegations as a political smear job and refused to drop out of the race.
Last week, a radio broadcaster alleged that Senator Al Franken (D-Minnesota) kissed and groped her without consent during a USO tour of the Middle East in 2006. On Monday, another woman accused Franken of sexually harassing her in 2010. Franken has apologized but said he does not intend to resign from the Senate.