Massive gas fire prompts evacuations in suburban Detroit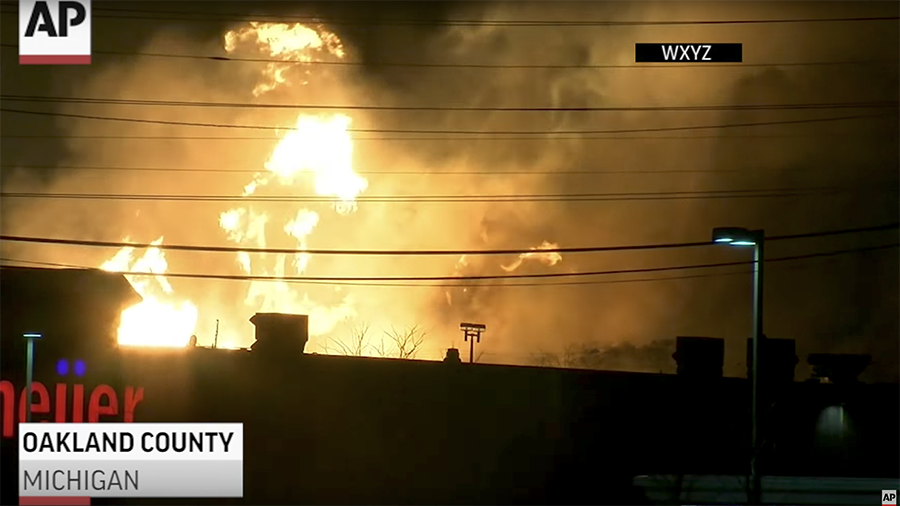 A high pressure gas pipeline ignited in a Detroit, Michigan suburb, prompting evacuations of nearby residents. Flames shot up dozens of feet into the air before the blaze burned itself out.
The massive fire broke out Monday night in Orion Township, 30 miles north of Detroit. Video posted by Auburn Hills Police Department says flames went up as high as 100ft into the night sky, with emergency responders calling for evacuations.
Township Fire Chief John Pender said the fire broke out on vacant land. Fire equipment was scattered everywhere, as officials tried to assess the flames.
"[We] did notice that there was a pressure drop on our natural gas system indicating that there was an issue somewhere," Debra Dodd of the utility company Consumers Energy told AP. "We do have crews on site but obviously with the amount of the flames, we can't get very near right now. Our first priority is to keep the public and our customers safe."
Oakland County Sheriff Michael Bouchard told AP the office's phone lines, including 911, were down as a result of the blaze. There were no injuries from the fire, Bouchard said, but businesses in the area closed early as firefighters worked to battle the inferno.
Consumers Energy was at the scene to shut off the gas. Its spokesman, Roger Morgenstern, told AP the fire occurred after a gas transmission line erupted and eventually burned itself out.
The fire left a crater about 40 yards (120ft) wide and about 18ft deep, WDIV reported. The exact cause of the blaze is unknown.
Morgenstern said the pipeline is a 15-20ft deep "long-term transportation" line and did not directly serve any customers, so it was not a threat to residents. The transportation pipeline, and others like it, undergo routine inspection every seven years. Consumers has no reason to believe this problem will occur in other, similar lines, said Morgenstern.