Trump calls for suspension of NFL player who stood for Mexican, but not US, anthem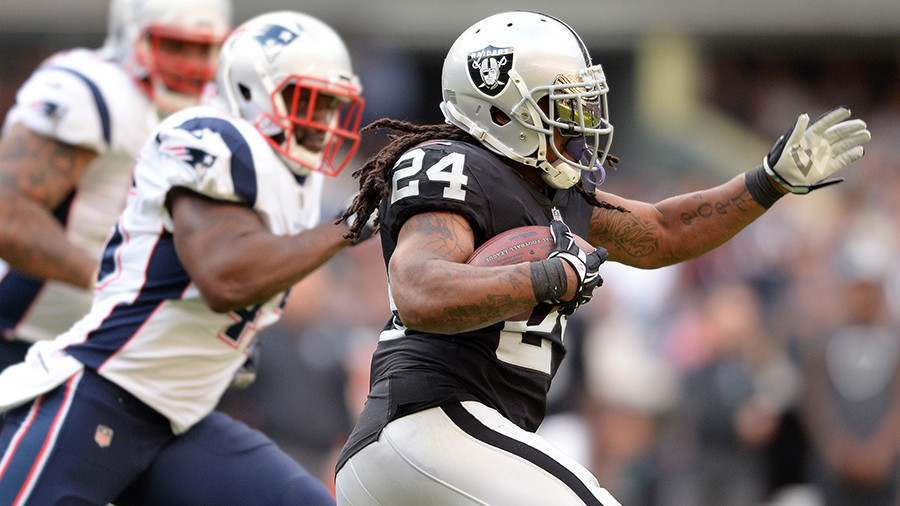 US President Donald Trump has called for the NFL to suspend Marshawn Lynch. The Oakland Raiders player declined to stand for the US national anthem but did stand for the Mexican anthem during a game played in Mexico City on Sunday.
"Marshawn Lynch of the NFL's Oakland Raiders stands for the Mexican Anthem and sits down to boos for our National Anthem. Great disrespect!" Trump tweeted on Monday morning. "Next time NFL should suspend him for remainder of season. Attendance and ratings way down."
The game was played in Estadio Azteca in Mexico City as part of an effort to promote the NFL to an international audience. The Raiders lost the game to the New England Patriots, 33-8.
Lynch was standing for the first few bars of the US national anthem but then sat down. He stood once again during the Mexican anthem. He was one of the few players to kneel at the start of the NFL season. More than 200 had joined in the protest by the third week, however.
Trump's tweet was met with a barrage of criticism that he was "attacking black folks."
Others said Trump has disproportionately weighs in on matters relating to African-Americans.
On Sunday, Trump said he should have left one of the three UCLA basketball players in jail, after they were arrested for shoplifting in China. His comments were aimed at Lavar Ball, father of one of the players, who sparred with Trump after he publicly wondered if the players would thank them for securing their release. All three players thanked Trump and the Chinese government in a press conference following their return to the US.
The president has repeatedly weighed in on the "take a knee" protests, which were started in 2016 by former NFL player Colin Kaepernick as a protest against police brutality. In September, Trump told an Alabama crowd that any player who doesn't stand for the anthem should not be allowed to play.
"Wouldn't you love to see one of these NFL owners, when somebody disrespects our flag, to say, 'Get that son of a bitch off the field right now. Out!" he tweeted. "He's fired. He's fired!'"
Trump also called on fans to boycott NFL games and tweeted that team owners should "fire or suspend" players who partake in the protests.
Dallas Cowboys owner and Trump donor Jerry Jones said in October that players who did not stand for the national anthem would not be allowed to play. "If we are disrespecting the flag, then we won't play. Period."
NFL owners met to discuss the protests after Trump's call to boycott the league. NFL commissioner Roger Goodell said that the league and its 32 teams "believe everyone should stand for the national anthem." The NFL declined to change the official policy to require players to stand, however.
Vice President Mike Pence walked out of an Indianapolis Colts game after several San Francisco 49ers players knelt during the national anthem.
Lynch, who came out of retirement earlier this season, is known for comedic antics and outspoken political views. He wore a t-shirt that said "Everybody vs. Trump" prior to a game against the Denver Broncos on October 1. As a player at the University of California Berkeley in 2006, Lynch took a service cart for a ride around the field amid players and personnel. He relived the moment a decade later, taking his mom on a cart ride.