'We really appreciate you' - UCLA basketball players thank Trump for negotiating release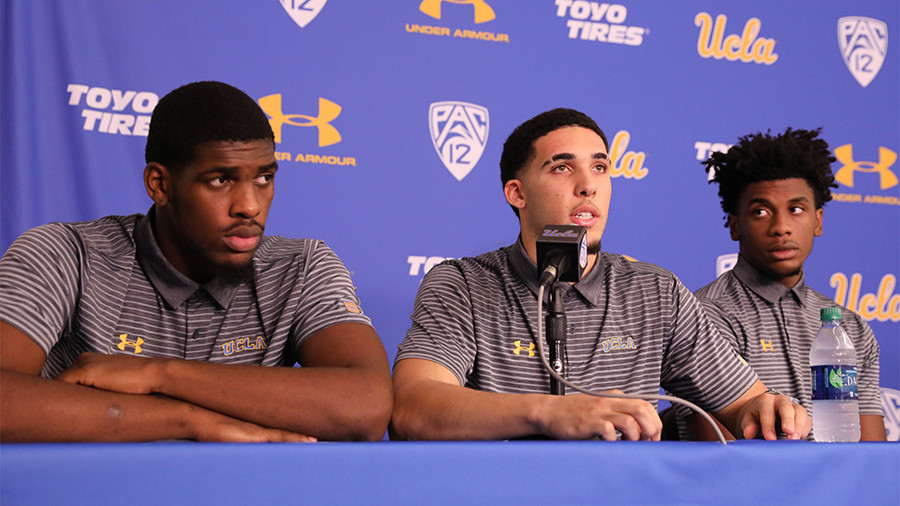 The three UCLA basketball players who were arrested in China thanked President Donald Trump for negotiating their release. They also face an indefinite suspension over accusations of shoplifting.
Cody Riley, Jalen Hill and LiAngelo Ball, the younger brother of Los Angeles Lakers rookie Lonzo Ball, appeared next to UCLA head coach Steve Alford at a press conference on Wednesday. The players admitted to misconduct, apologized, and thanked the authorities, the school and President Trump for securing their release.
The three freshmen were arrested on November 7 on suspicion of stealing from a Louis Vuitton store near the Hyatt Regency hotel in in Hangzhou, where the UCLA and Georgia Tech teams were staying ahead of their season-opening game in Shanghai. UCLA has indefinitely suspended Ball, Riley and Hill over the incident.
UCLA basketball players LiAngelo Ball, Cody Riley, and Jalen Hill have been suspended indefinitely for the shoplifting incident in China. pic.twitter.com/QIDdUQBcHB

— Campus Sports (@CampusSportsNet) November 15, 2017
"I'd like to start off by saying sorry for stealing from the stores in China. I didn't exercise my best judgment and I was wrong for that," Ball said, thanking the Chinese police "for treating me so respectfully even after I made a stupid decision."
"I would also like to thank President Trump and the United States government for the help that they provided," Ball added.
"To President Trump and the United States government, thank you for taking the time to intervene on our behalf. We really appreciate you helping us out," said Riley. "I feel terrible and I'm sorry to everybody who I've let down."
"Thank you to [the] United States government and President Trump for your efforts to bring us home," said Hill. "What I did was stupid. There's no other way to put it."
Dan Guerrero confirms what ESPN reported last week that the three UCLA players shoplifted from three different stores inside of a high-end shopping center, including Louis Vuitton.

— Arash Markazi (@ArashMarkazi) November 15, 2017
Coach Alford also thanked "President Trump and his administration, for the nonstop efforts to resolve this situation."
Earlier in the day, Trump wondered on Twitter if he will be thanked for intervening personally with Chinese President Xi Jinping.
"Do you think the three UCLA Basketball Players will say thank you President Trump? They were headed for 10 years in jail!" he tweeted Wednesday morning.
Trump said he personally negotiated with President Xi last week for the release of the three basketball players.
"He was terrific, and they're working on [the players' release] right now. And hopefully everything is going to work out," Trump said on board Air Force One on Tuesday, flying back to the US from a 12-day Asian tour. "What they did was unfortunate. You know, you're talking about very long prison sentences. They [the Chinese authorities] do not play games."
You can share this story on social media: